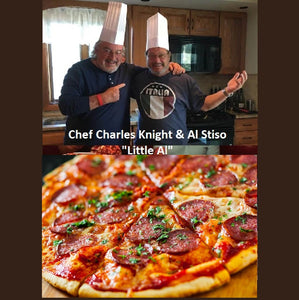 AL's Tomato Pie
Adapted from AL's Pizzeria, Established 1957, Clark NJ
Makes 4 to 5 Pizzas
The first pizzeria in the USA "Lombardi's" opened in 1905 in New York City. This inspired the pizza boom. In the 1920's Italian Americans in New Jersey began opening pizzerias all over the state, and by the 1930s pizza had become extremely popular throughout the Northeast.
Traditional Italian-style tomato pies were square or rectangular in shape, had a thicker focaccia-like dough crust, and often made with no cheese. The thin crust round tomato pie was unique to New Jersey, originating in the Trenton area, it had mozzarella cheese and other toppings added under the sauce instead of on top.
Today, New Jersey is home to well over 2,000 pizzerias and most New Jerseyans would argue (as a result of heavy competition) that Garden State pizza is even superior to that of New York. 
In 1957 Al's Pizzeria opened around the corner from my home in Rahway, NJ. I was 10 and having a pizza place made my neighborhood complete. We had Koss and Son hardware store and lumber yard, the Merrit Supermarket, O' Johnnie's Candy Store, Sal's barber shop, a bar, an American Legion, VFW and now Al's Pizzeria.
Al Stiso was a special kind of guy. Friendly, a diligent worker, and a great family man. He related to kids, and I was one of them. I would stand at the serving window watching every move he made and making mental notes. Back in the day you could buy a slice of Tomato Pie and a coke for 25 cents. It was wonderful. 
Although Big Al is no longer with us, and Al's Pizzeria is now Pompeii Pizza (same address), I remain friends with his daughter Janet and son little Al. Three years ago, Me and Little Al got together at his home in New Jersey to reminisce and make Pizza, and I learned somethings I did not know. Thanks Al!
The KEY to excellent PIZZA dough is using filtered water rich in minerals. Chloramine (compounds of chlorine and ammonia) found in tap and bottled water will prevent the yeast from reproducing, bubbling, and rising.
EQUIPMENT: KitchenAid Mixer with Dough Hook, measuring cup and spoons, 13-inch stainless steel pizza pan (or bigger), food mill, thermometer. 
Dough Ingredients
3 lbs. 00 flour* Double Zero Flour (About 10 level cups)
2 teaspoons salt
2 cups 110ᵒF filtered water (any hotter it may kill the yeast)
Quick-rising yeast (1 small packages)
2 tablespoons sugar
1/2 cup Olive oil or Canola oil
Directions 
In the mixer bowl combine flour and salt, mix well.
In the measuring cup, combine warm water (110ᵒF) with yeast, sugar, and oil, mix well and set aside to activate the yeast, 5 to 10 minutes.
Note: Yeast activates at 100 to 110ᵒ Temperatures above 130 to 140ᵒF will kill the yeast.
Turn mixer on low speed.
To the flour mixture, add the warm liquid 1 or 2 tablespoons at a time.
Mix until the dough forms a ball, then process for 1 minute to knead.
Note: you may have to add up to another 1/4 cup warm water to form the dough. 
If mixing dough by hand, stir together in a bowl until the dough comes together, and kneed on a countertop.
Dough should be firm and not too wet.
Transfer the dough to a lightly floured surface. Cover with plastic wrap and let rest for 10 to 15 minutes, then knead again by hand.
Cover and let rise another hour or so before cutting to desired size.
Cut into 4 or 5 equal pieces for a 10 to 13-inch thin crust pie.
Ball each piece of dough and place in a lightly oiled covered bowl.
Refrigerate the dough and let rise again. Preferably overnight.
Take the dough out of the refrigerator and allow it to reach room temperature. (2 to 3 hours).
Preheat oven to 550ᵒF degrees for at least one hour before baking.
Roll out the dough for a thin crust or stretch it for a "New York" style crust.
Add tomato sauce. It will cook on the pizza pie.
Sprinkle with a mixture
Dry oregano
Garlic powder
Onion powder
Salt and pepper (optional)
Add your favorite toppings (under or over the sauce) and cook until the bottom is golden, and the top is bubbling.
Note: When using abundant toppings, you may want to start cooking in a pizza pan, then transfer to the stone when the toppings begin to cook.
Place on a pizza peel sprinkled with a flour and cornmeal mixture.
Top with your favorite toppings, mozzarella cheese, peperoni, sausage, sliced peppers and or onions. Whatever you like, BUT NO FREAKIN' PINEAPPLE!
The Sauce 
2 cans San Marzano Peeled Plum tomatoes 28 ounces each. You will need about 1½ cups of sauce per pizza. Run tomatoes thru a ricer, food mill to remove the bitter seeds, or remove the seeds by hand with a spoon.
Add any combinations of the following and sprinkle on the pizza while building the pie.
Dry oregano
Garlic powder
Onion powder
Salt and black pepper (optional)
Desired toppings
Sprinkle with olive oil and bake
What is "Double Zero" Flour?
In Italy and other European countries, flour classification is based on how finely ground the flour is and how much of the germ and bran removed. The Italian grading system includes 2, 1, 0 and 00. Double zero (doppio), is the most refined. The texture is silky soft, similar to baby powder. Double Zero flour is for oven temperatures of 450-500°F.
Removing the bitter seeds from canned tomatoes is an uncomplicated process. You can accomplish this with a food mill. If you do not have a food mill all you will need is a sieve, bowl, and a spoon
To drain off the juice, place the sieve over the bowl and pour the tomatoes into the sieve. Reserve the excess liquid for other applications.
With your hands, break the tomatoes open exposing the seeds and remove by scraping with a spoon.
To separate this additional liquid from the seeds, pour it through the sieve again and discard the seeds.
Reserve the liquid as you may need to use it in the tomato sauce.
Process the tomato pulp in a food processor until smooth and silky.