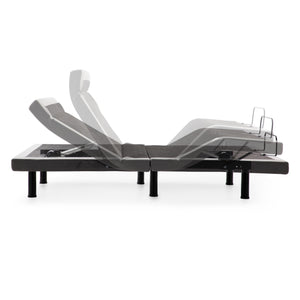 Snore Detection, Partner Control Siri Voice Commands, Dar Mode available with IOS, Android Apple Watch Compatible.
Bedtime is for dreaming, no snoring. The E455 Smart Base from Health Craft magically detects snoring and then automatically adjusts while you sleep to open airways so you can breathe better and sleep deeper.
ADJUSTIBLE SMART BASE with AWARD-WINNING TECHNOLOGY
Sleep your way with the E455 Adjustable Bed Base from Health Craft. Simply connect your phone to our award-winning app to make immediate adjustments for better sleep or find the best position for ultimate relaxation. After a long day, come home to your adjustable base and settle in, winding down and pampering yourself with a luxurious massage.
Independent incline options for head and feet
Two preset positions and the option to customize one more.
Foldable for easy transportation and quick 15-minute assembly
Two convenient charging ports and Bluetooth® compatibility
Access to additional customization with the Malouf Base™ App
Relaxing neck and back massage with three intensities
Finished in a sleek stone-colored upholstery.
SLEEP YOUR WAY
Not everyone has the same preferences—whether that's music, food, or sleep. Get the comfort you want without compromising with a Split King sleep system. Put two Twin XL mattresses and adjustable bases together for a standard King bed. This way, you and your partner can each personalize and control the way you sleep, so you can sleep better together.
SAVE YOUR PLACE
Find your perfect positions for sleep, reading, or TV watching, then save it as a preset to easily find the right spot again. Once you save your favorite positions, sleep, and breathe well all night with the touch of a button.
SIMPLE SETUP
We know life is busy, so do not spend all your valuable free time setting up a complicated new sleep system. With Malouf, you can assemble your base and get to better sleep in under 15 minutes. Simply unfold, tighten the legs, flip over, and plug in your base. Add your mattress—no box spring required—and start relaxing.