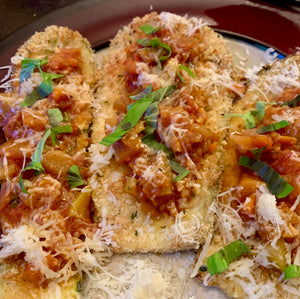 BAKED EGGPLANT
How to select and prepare eggplant properly for Parmesan, Rollatinis, or served as a side dish with my Eggplant Sauce.
PREPARATION: About 30 minutes – makes 4 servings
EQUIPMENT: two 9x7 stainless steel baking pans, one or two 18x13 baking sheet with rack,
INGREDIENTS:
1 medium male eggplant* sliced ¼ inch thin into 8 to 10 pieces
Kosher salt
½ cup mayonnaise
1½ cups panko breadcrumbs
½ cup Parmesan Reggiano cheese grated fine
2 tablespoons fresh parsley or basil minced fine.

I like a combination of fresh basil, parsley, rosemary, thyme, and 1 mint leave.

2 cups Eggplant Sauce
PREPARATION
Salt the eggplant on both sides – this will draw out excess moisture so as not to get sogging in the cooking process. Place the eggplant on an individual piece of paper towel folded. Stack the eggplant in this manor one on top of the other. Place a bacon press or heavy book on top of the pile. Salting and pressing are necessary to remove excess moisture and to take out any bitterness.
Preheat the oven to 400ᵒF.
Breading Process. Place the mayonnaise in one 9x7 baking pan and the breadcrumbs mixed with herbs and grated cheese in the other. Cover a slice of eggplant with a liberal amount of mayonnaise then coat the eggplant with breadcrumbs. Place breaded eggplant on baking rack that has been oiled.
Place the baking rack with eggplant in the oven and bake for 15 to 20 minutes to a light golden brown. DO NOT OVER COOK.
SERVING
Eggplant or Zucchini baked in this way can be used for Eggplant Parmesan by adding mozzarella, Eggplant Rollatinis adding mozzarella and prosciutto, or can be served by itself. All recipes should include my Neapolitan Eggplant Sauce
*MALE EGGPLANT At the opposite end of the stem if there is an ident that is a female eggplant loaded with seeds and is often bitter. The male eggplant has an outie with less seeds.