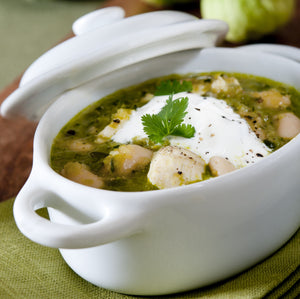 EQUIPMENT: Rotary food cutter, French chef knife, cutting board, 5-quart stockpot with cover.

PREPARATION TIME: 45 minutes - Makes 6 servings
INGREIDENTS
1 medium white onion, chopped #2 cutting cone
2 cloves Garlic sliced thin, #4 cutting cone
2 cups low sodium Chicken Stock
1 pound Chicken Breast, or cooked turkey cubed
2 16-oz cans Great Northern White Beans
½ teaspoon Chili Powder
1 teaspoon Cumin
¼ teaspoon Oregano
2 small Jalapeno Peppers, minced
6 ounces Monterey Jack Cheese, grated #2 cone
4 ounces. Sour Cream
2 green onions, chopped
DIRECTIONS
Preheat 4-quart stockpot (4L) over medium heat 300°F (180°C). Sauté onion and garlic in ½ cup of chicken stock until tender, add balance of chicken stock, chicken, and cook until chicken is cooked through, about 10-12 minutes. Reduce heat to simmer 180°F (82°C); add beans, chili powder, cumin, and oregano. Cover, open the vent and cook 20 minutes, or reduce to warm 150°F (66°C) and slow cook.
TO SERVE, top with cheese and sour cream, and sprinkle with chopped green onions.
NUTRITIONAL BREAKDOWN PER SERVING: Calories 186 Fat Grams 6 Carbohydrate Grams 13 Protein Grams 16 Cholesterol mg 54 Sodium mg 307