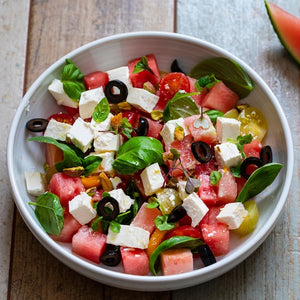 Watermelon salad has been a refreshing and tasty dish for centuries. It is believed to have originated in the Mediterranean and has since spread across the world, becoming a staple dish in many cultures. Watermelon salad has evolved over time, with each culture adding its own unique twist to the dish. Today, watermelon salad is enjoyed as a healthy and delicious summer treat. Join us as we explore the rich history of watermelon salad and discover the different variations of this beloved dish.
EQUIPMENT; small stainless steel mixing bowl, salad serving bowl, chef knife, cutting board, measuring cups and spoons
PREPARATION: 1 hour - makes 4 servings
INGREDIENTS:
Honey Lime Vinegarette
3 tablespoons honey
2 fresh limes, juice of
3 tablespoons Spanish or Italian olive oil (not the green stuff)
1 tablespoon apple cider vinegar
Salt and pepper to taste.
Watermelon Salad Ingredients
4 cups cold seedless watermelon cubed.
½ pound feta cheese cubed
8 cherry tomatoes cut in half or quartered.
¼ cup pistachio nuts chopped
8 to 10 basil leaves – or fresh mint leaves
½ cup black olives sliced (optional)
DIRECTIONS
Vinegarette: In a small stainless steel mixing bowl whisk together the honey, lime juice, olive oil, and vinegar. Cover and place it in the refrigerator until ready to serve. To intensify the flavor, allow the vinegarette to rest in the refrigerator covered for 30 minutes to an hour before serving.
Salad: In a large salad bowl gently toss together the watermelon and remaining ingredients. Pour the vinegarette over the salad evenly, toss gently, and serve immediately.