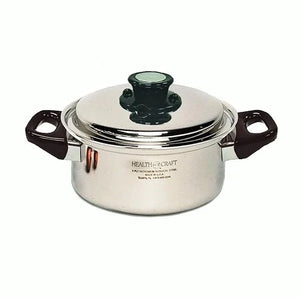 We can recondition your old stainless-steel waterless cookware to look almost like new. Reconditioning includes removing all residual burned on food, polishing, and buffing (if necessary). $10.00 USD for each pan/pot/skillet/lid. Does not include handle replacement (if needed) or return shipping.
Questions: Call 1-813-390-1144
Turnaround time is approximately 5 days from the time your item is received. Be sure to include your name, address, zip code and cell phone number.
Ship to:
Health Craft 4319 Spinnaker Cove Lane Tampa, Florida 33615
TRADE-IN your old waterless cookware and TRADE-UP to Ultra-Tech II 9-Ply Induction 316ti Surgical Stainless Steel. Call or Text 1-813-390-1144 for your Trade-In Value.
Customer Service and Culinary Specialists available from 8am to 10pm EST 7 days a week and from 1pm to 8pm on Holidays. Text or Call 1-813-390-1144