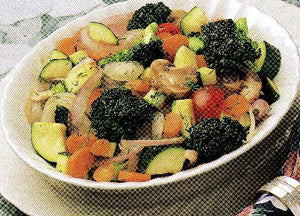 Vegetable Stir Fry
Serves: 4
Preparation Time: 25 minutes
Equipment: French Chef Knife, Cutting Board, Kitchen Machine food cutter, Large Skillet
2 teaspoons sesame oil

1 cup broccoli florets cut into 1-inch (2.5 cm) pieces

1 large carrot, sliced #4 blade

1 zucchini, sliced #4 blade

1 red onion cut in quarters and julienned #2 blade

1 tablespoon water

½ cup fresh mushrooms, slice #4 blade (to slice, place sideways in hopper)

¼ teaspoon fresh dill, chopped

4 cherry tomatoes, halved
Heat oil in WOK or Large Skillet over medium-high heat; add broccoli, carrots, zucchini and onion. Stir-fry 4-5 minutes. Add water, cover (close vent) reduces heat to medium-low and cook 5-7 minutes. Stir in dill, add mushroom, tomatoes, recover and cook 5 minutes or until vegetables are tender.
NUTRITIONAL BREAKDOWN PER SERVING: Calories 70; Fat Grams 3; Carbohydrate Grams 11; Protein Grams 2; Cholesterol mg 0; Sodium mg 159.
THE POINT SYSTEM: Calorie Points 1; Protein Points 0; Fat Grams 3; Sodium Points 7; Fiber Points 1; Carbohydrate Points ½; Cholesterol Points 0.