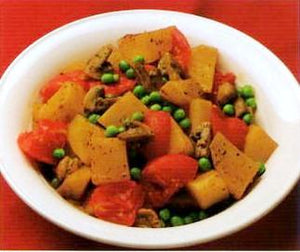 Vegetable Curry
Serves: 8
Preparation Time: 40 minutes
Equipment: French Chef Knife, Cutting Board, Kitchen Machine food cutter, 6-quart Stockpot
3 tablespoons curry spice mix*

3 tablespoons vinegar

¼ cup (60 ml) peanut oil

2 onions, chopped blade #5

2 cloves garlic, minced

4 ¾ pound (345 g) baking potatoes cut into 2-inch cubes

1 pound mushrooms, quartered

½ teaspoon sea salt or kosher salt

1 16 ounce (460 g) can diced tomatoes, or 1¼-pounds plum tomatoes, peeled, seeded and chopped

1 cup (240 ml) unsweetened coconut milk

½ teaspoon Garam Masala*

1 8 ounce (230 g) package frozen peas
In a small mixing bowl, combine the curry spice mix with vinegar, mix to form into a paste, set aside.
In the 6-quart Stockpot, heat peanut oil over medium heat. Add onions and garlic, sauté until golden brown. Add curry spice/vinegar spice mixture and fry for about 3-minutes stirring constantly. Add potatoes and mushrooms, salt, and mix well. Cover (close vent) and reduce the heat to low for 20 minutes.
Add tomatoes, cover and simmer an additional 5 minutes. Add coconut milk, Garam Masala, and peas. Stir, cover, and simmer uncovered until heated through.
See recipes for Curry Spice Mix and Garam Masala.
Serve with Raita and Chicken Satay.
NUTRITIONAL BREAKDOWN PER SERVING: Calories 264; Fat Grams 15; Carbohydrate Grams 30; Protein Grams 6; Cholesterol mg 0; Sodium mg 268.
THE POINT SYSTEM: Calorie Points 3½; Protein Points 1; Fat Grams 15; Sodium Points 12; Fiber Points 2; Carbohydrate Points 2; Cholesterol Points 0.