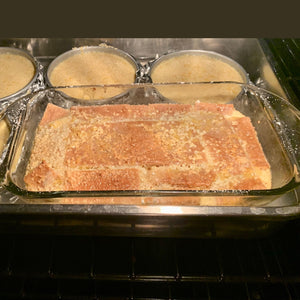 Upside Down CHEESECAKE
EQUIPMENT: 1 large and 1 medium Lasagna Pan or Glass Baking Dish, mixing bowls, measuring cups and spoons, whisk. NOTE: medium baking dish must fit in a water bath in the larger baking dish.
PREPARATION: Preparation: 2 hours - makes 10 servings
CHEESECAKE FILLING
6 eggs, at room temperature
1 cup granulated sugar
½ cup Coco Lopez
1 can 12 ounces evaporated milk
1 can 14 ounces sweetened condensed milk
2 - 8-ounce packages cream cheese, at room temperature
1 teaspoon each cinnamon, nutmeg, ginger, and allspice
CRUST
1 package cinnamon graham crackers
1 tablespoon fresh lemon zest, grated fine
DIRECTIONS
Preheat oven to 350ᵒF. Fill the larger baking pan one-quarter of the way with hot water and place on the center rack in the oven. About 15 to 20 minutes.
FOR THE FILLING
Whisk the eggs to a froth. Add the remaining ingredients and whisk to combine, but do not over beat the mixture. 
Pour 3/4 of the mixture into the smaller baking dish.
FOR THE CRUST
Arrange whole graham crackers to cover the entire top of the cheesecake mixture. Top with the remaining cheesecake mixture and sprinkling of lemon zest.
BAKE THE CHEESECAKE
Place the smaller baking dish into the larger baking dish with steaming water bath and bake for 1 hour. Test for doneness by inserting a toothpick into the cheesecake filling. When the toothpick comes out clean, the cheesecake is done.
Momma's Secret: When finished baking turn off the oven and crack the door. Allow the cheesecake to remain in the oven to cool down gradually for 1 hour. This will prevent the cheesecake from cracking or separating.
Remove the cheesecake from the oven and set aside to cool for about 30 minutes. Cover with plastic wrap or aluminum foil then place in the refrigerator until ready to serve.
To serve: slice and serve with whipped cream.