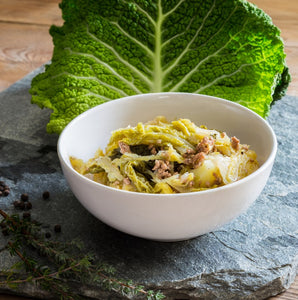 EQUIPMENT: chef knife, cutting board, large sauté skillet or electric skillet, measuring cups and spoons, rotary mandolin food cutter.
PREPARATION TIME: 40 minutes – Makes 12 servings.
2 Italian Sausage links
1 medium Spanish onion chopped, #2 cutting cone.
1 15 ounce can of crushed tomatoes, or 10 to 12 peeled and seeded fresh tomatoes, chopped.
2 tablespoons brown sugar
¼ cup apple cider vinegar
3 sprigs fresh thyme, or ½ teaspoon ground thyme
1 bay leaf
1 cup cooked rice or ¼ cup minute rice
1¼ low sodium chicken stock
1 medium head of cabbage quartered and shredded #5 cutting cone.
DIRECTIONS
In a hot, dry skillet over medium heat 275°F, sauté sausage until cooked 3 to 5 minutes. Add onions and continue to sauté until onions are cooked 5 to 6 minutes, stirring occasionally.
Stir in the tomatoes, brown sugar, vinegar, thyme, bay leaf, rice, chicken stock, and top with shredded cabbage. Cover the pan, close the vent, reduce the heat to low 175°F and cook for 25 to 30 minutes.
Serve as a side dish with chicken, pork, or veal.
NUTRITIONAL BREAKDOWN PER SERVING: Calories 64; Fat Grams; 1 Carbohydrate Grams 13; Protein Grams 2; Cholesterol mg 1; Sodium mg 60.
THE POINT SYSTEM: Calorie Points 1; Protein Points 0; Fat Grams 1; Sodium Points 3; Fiber Points 2; Carbohydrate Points 1; Cholesterol Points 0.