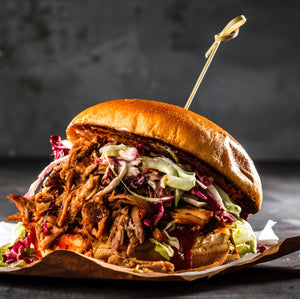 PREPARATION: 1 hour 45 minutes – makes about 8 servings
EQUIPMENT: Large skillet or oil core electric skillet, large Ultra-Vac,
INGREDIENTS:
5-pound Boston Pork Butt

1½ cups red wine vinegar

3 tablespoons garlic powder

3 lemons

1 (16-ounce) Cattleman's BBQ Sauce

1 tablespoon Crystal Hot Sauce

1 teaspoon seasoned salt

12 Kaiser or Hamburger rolls
DIRECTIONS: 
Marinate pork butt in the large Ultra-Vac container or a Ziploc bag with red wine vinegar, garlic powder, and the juice of 3 lemons. Leave squeezed lemons in the bag and marinate overnight.
Preheat Electric Skillet or 11 ¼ Sauté Skillet to medium-high heat 350°F and brown pork butt on all sides. Cover, close the vent, reduce heat to medium-low 220°F, and cook 15 minutes per pound or 1 hour 15 minutes. Proper cooking temperature is when tiny bubbles appear around the rim of the pan. If the lid spits moisture the temperature is too high, if no bubbles appear the temperature is too low.
Remove the pork butt from the skillet and set aside to cool slightly.
To the skillet add the Barbeque Sauce, hot pepper sauce, and seasoned salt, and mix to combine with drippings from the pork.
With a utility knife, trim all fat from the pork butt. With 2 dinner forks begin to tear the meat into shredded pieces. Place shredded pieces in the skillet and mix well to combine with the pan sauce.
SERVING:
Serve on Kaiser or Hamburger rolls with an excellent dill pickle or two.