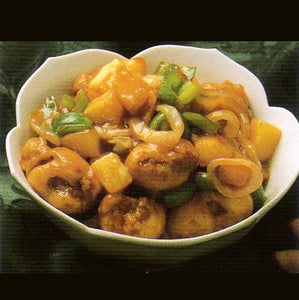 Sweet and sour pork is a traditional Chinese dish that has gained popularity all over the world. It is a perfect balance of sweet and sour flavors, with tender pieces of pork that are coated in a crispy batter. The dish is usually accompanied by steamed rice and vegetables, making it a complete and satisfying meal.
To make this dish, first, the pork is cut into small pieces and marinated in a mixture of soy sauce, rice wine, and cornstarch. Then, it is deep-fried until crispy and golden brown. The sauce is made by combining vinegar, sugar, ketchup, and chicken broth in a pan and heating it until thickened. The fried pork is then added to the sauce and tossed to coat.
The result is a mouth-watering dish that is sure to be a hit with your family and friends. It is perfect for a weeknight dinner or a special occasion. Give it a try and impress your guests with this delicious and easy-to-make sweet and sour pork.
PREPARATION: 1 hour, 30 minutes – makes 6 serving
EQUIPMENT: French chef knife, Cutting Board, 11-inch Gourmet skillet
INGREDIENTS.
1 cup all-purpose flour
4 tablespoons cornstarch
1 ½ teaspoons baking powder
1 pinch salt
1 tablespoon oil
Purified or filtered water. Do not use chlorinated tap water.
8 ounces of pork tenderloin cut into ½-inch cubes.
1 onion, sliced.
1 green bell pepper, cored, seeded, and sliced.
1 small can of pineapple chunks, juice reserved.
Vegetable or olive oil for frying
1 tablespoon unsalted butter
PREPARED the PORK and VEGETABLES:

To prepare the batter, sift the flour, cornstarch, baking powder, and salt into a mixing bowl. Make a well in the center and add the oil and enough water to make a thick, smooth batter. Using a wooden spoon, stir the ingredients in the well, gradually incorporating flour from the outside, and beat until smooth.
In the Large Skillet place enough oil to deep-fry the pork over medium-high heat 375ᵒF. Dip the pork into the batter and drop it into the hot oil. Fry 4-5 pieces of pork at a time to a golden brown and remove with a slotted spoon to paper towels. Continue until all pork is fried.
Pour off oil from the skillet and add the unsalted butter, sliced onion, pepper, and pineapple. Stir-fry over medium-high heat 375ᵒF for 1-2 minutes. Remove and set aside.
SWEET and SOUR SAUCE
2 tablespoons cornstarch
½ cup light brown sugar
1 pinch salt
½ cup apple cider vinegar or rice wine vinegar
1 clove garlic crushed and minced fine.
6 tablespoons tomato ketchup
6 tablespoons reserved pineapple juice
DIRECTIONS:
In a mixing bowl, combine all sauce ingredients, and mix well. Place the skillet over medium heat 275ᵒF and deglaze the skillet with the sweet and sour sauce. Bring to a simmer, stirring continuously until the mixture thickens. Allow to simmer for 1-2 minutes or until the mixture becomes clear.
Add the vegetables, pineapple, and pork cubes to the sauce and stir to coat completely. Reheat for 1-2 minutes and serve immediately.
NUTRITIONAL BREAKDOWN PER SERVING: Calories 324; Fat Grams 6; Carbohydrate Grams 57; Protein Grams 12; Cholesterol mg 22; Sodium mg 325.
THE POINT SYSTEM: Calorie Points 4½; Protein Points 1 ½; Fat Grams 6; Sodium Points 14; Fiber Points 1; Carbohydrate Points 4; Cholesterol Points 2.