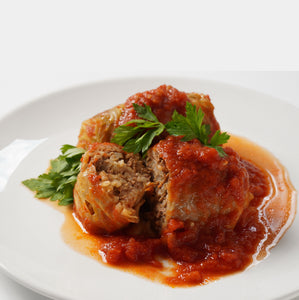 Stuffed Cabbage Rolls
Serves: 6
Preparation Time: 1 hour, 15 minutes
Equipment: French chef knife, Cutting Board, Kitchen Machine food cutter, 6.5-quart Stockpot, 6-quart Steamer/Pasta Basket, large stainless Mixing Bowl, Large Skillet, small stainless Mixing Bowl
FILLING
6 large green cabbage leaves
½ pound (230 g) ground turkey
½ pound (230 g) lean ground pork or veal
1 cup cooked rice
½ medium onion, peeled and chopped #2 blade
½ teaspoon fresh basil, minced (or dried)
½ teaspoon fresh parsley, minced (or dried)
½ teaspoon fresh oregano, minced (or dried)
½ small garlic clove, minced and mashed into a paste with side of chef's knife
black ground pepper and kosher or sea salt to taste (optional)
SAUCE
1 8 ounce (230 g) can tomato sauce.
½ teaspoon fresh basil, minced (or dried)
½ teaspoon fresh parsley, minced (or dried)
½ teaspoon fresh oregano, minced (or dried)
In the 6-quart Stockpot with Steamer/Pasta basket inserted, add 2-3 cups of water, and bring to a boil. Place cabbage leaves in Steamer/Pasta basket, cover with the vent open, and steam cabbage until leaves wilt, approximately 7-10 minutes. Set aside to cool.
In the large Mixing Bowl, combine turkey, pork (or veal) rice, and spices, mix well. Place ½ cup of mixture in the center of each cabbage leaf, fold ends of leaf over mixture and roll up. Place cabbage rolls in Large Skillet folded seam side down.
In the small mixing bowl, combine sauce ingredients and pour evenly over cabbage rolls. Cover with the vent closed, place over medium-low heat and cook for 45 minutes to 1 hour.
NUTRITIONAL BREAKDOWN PER SERVING: Calories 188; Fat Grams 8; Carbohydrate Grams 12; Protein Grams 17; Cholesterol mg 55; Sodium mg 124.
THE POINT SYSTEM: Calorie Points 2½; Protein Points 2; Fat Grams 8; Sodium Points 5; Fiber Points 0; Carbohydrate Points 1; Cholesterol Points 5.