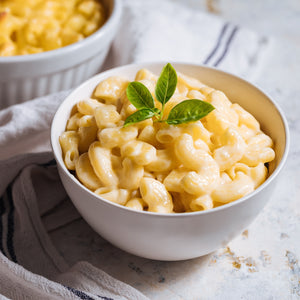 Did U.S. founding father, Jurist, diplomat, writer, inventor, philosopher, architect, gardener, negotiator of the Louisiana Purchase, Minister to France, first Secretary of State, second Vice President, and third President of the United States of America Thomas Jefferson invent Mac N Cheese?
Jefferson often served Mac N Cheese at his home Monticello, and there is this well-known surviving document with a sketch and description of how to make macaroni in Jefferson's own handwriting. As President Jefferson had Mac N Cheese served at a State Dinner in 1802. So, TJ can definitely take credit for the growing popularity of Mac N Cheese. He was a huge fan of Ice Cream and French Fries as well.
The question remains, is President Thomas Jefferson the inventor of Mac N Cheese? Actually, while serving as minister to France Jefferson and his man James Hennings discovered Mac N Cheese in Paris and brought the recipe back to Monticello.
So, TJ is not the inventor and Mac N Cheese is not unique to the USA as some believe. In fact, Pasta and Cheese recipes date back to Italy and the 14th century. Since then, there are tens of thousands of versions of good ole Mac N Cheese. Here is another. Enjoy!
EQUIPMENT: Measuring cup and spoons, food cutter (#2 Julienne blade), 5-quart Soup Pot
PREPARATION: 1 hour - Makes 4 to 6 servings
INGREDIENTS
3 cups macaroni; or rice flour Pasta for gluten-free
2 tablespoons unsalted butter; for dairy-free, Parkay or soy margarine
2 tablespoons all-purpose flour; or rice flour for gluten-free
1 cup whole milk; or rice milk for dairy free
1¾ cups (about 5 ounces) Lorraine Swiss cheese diced; Manchego Spanish goat cheese for dairy free.
4 ounces sharp white cheddar cheese diced; vegan cheddar for dairy free.
½ teaspoon Dijon mustard
¼ teaspoon white pepper
¼ cup Pecorino cheese, grated (#1 grating blade); sheep's milk version for dairy free
DIRECTIONS
Bring a stockpot three-quarters full of purified or filtered water to a boil over medium heat at 275°F and cook pasta until al dente. Drain the pasta, remove to a large serving bowl, and keep warm. (DO NOT USE CHLORINATED TAP WATER).
Rinse the 5-quart and melt the butter over medium heat at 275°F. Whisk in the flour and cook for 2 to 3 minutes continue to whisk. Add the milk slowly and continue to whisk until the mixture thickens, about 4-5 minutes. Turn the heat to medium-low 175°F and add a small amount of cheese at a time whisking until the cheese melts and is fully incorporated into the sauce. Stir in the mustard and white pepper. Add the cooked pasta and stir to combine.
SERVING:
Top with grated Pecorino and enjoy and serve hot. Alternatively, Mac N Cheese can be placed in a baking dish and baked in the oven.