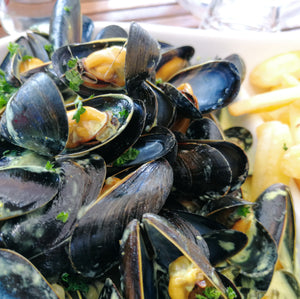 Steamed New Jersey Mussels in Court Bullion - See recipe and video.
Blue mussels live in intertidal areas and inlets of New Jersey's Barnegat Bay attached to rocks and other hard substrates by strong (and elastic) thread-like muscle.
Unlike clams, mussels feed while submerged at high tide, opening their shells, and using the cilia attached to their gills to propel water and food particles into their mouths. At low tide, the shells close.
The flesh of a Blue Mussel, known in Victorian times as a "Winkle," when cooked for no more than 7 to 10 minutes, it has a remarkable rich and sweet flavor.
Mussels need to breath; remove from bag as soon as possible and submerge in salted water to give them a chance to purify themselves. To clean mussels prior to cooking, scrape off beards, rinse, and soak again in fresh icy water. Discard any mussels that open before cooking. Do not eat mussels that do not open after cooking.
NOTE: soaking mussels in chlorinated may have adverse effects or change the flavor. We recommend filtered or purified water for this recipe. 
EQUIPMENT: 6 Qt. Stockpot with cover, French chef knife and cutting board
INGREDIENTS:
1 tablespoon olive oil
2 to 3 tablespoons unsalted butter
4 cloves garlic, minced fine.
2 medium shallots, minced fine
2 cups white wine
1 cup filtered water.
1 teaspoon fresh lemon juice
3 or 4 sprigs fresh parsley, stems removed and chopped
2 tablespoons fresh thyme, chopped
1 bay leaf
4 or 5 peppercorns
43 to 4 dozen mussels*
PREPARATION:
In the 6 Qt. Stockpot over medium heat 300°F (150°C), sauté shallots and garlic in olive oil and butter until tender. Add the wine, water, lemon juice, parsley, thyme, and bay leaf and bring to a simmer. Add mussels, cover (open the vent) and reduce heat to medium-low 240°F (116°C) for 7 to 10 minutes until mussels open.
Serve in soup bowls with wine sauce and toasted French bread for sopping.