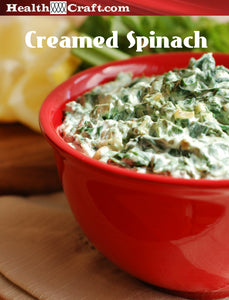 Spinach with Cognac Cream (creamed spinach)
Adapted for Induction Cooking
Chef's Notes: There are quite a few recipes even accomplished chefs will not tackle, only because the finished product is readily available (like frozen creamed spinach) or the "vegetable" is considered an insignificant part of the meal, or it's just too much work beyond the entre. With induction compatible waterless cookware and the precise temperature of an induction cooktop all things quick, easy and possible. I know, this sounds like a sales pitch – well it is. Ya gotta have the right tools in the kitchen! You can prepare this recipe on a gas or electric range as well.
EQUIPMENT: paring knife, 13-inch French skillet with vented lid, measuring cups and spoons.
1½ pounds fresh spinach, washed and tough stems removed
½ cup Light Béchamel Sauce (page 188 Healthy Meat and Potatoes)
1 tablespoon cognac
¼ teaspoon freshly ground black pepper
Fill a basin with cold running water, wash the spinach and remove the tough stems and any surface blemishes with a paring knife. Drain.
If the spinach has already been prewashed and trimmed, fill the pan to the top with the spinach, rinse with cold water and pour the water off. The water that clings to the vegetable is sufficient for cooking the waterless way. Cover the pan, close the vent and cook over medium heat (setting #4 or 240°F | 116°C). When the cover spins freely on a cushion of water, the vapor seal has formed, 3 to 5 minutes. After forming the seal, reduce the heat to medium-low heat (setting #3 or 210°F | 99°C), cook for 10 to 15 minutes. Don't peek. Removing the cover will destroy the vapor seal, lengthen the cooking time and may cause the spinach to burn.
Remove from the heat and drain excess liquid from the skillet. Combine the cognac with the béchamel sauce, mix well and add to the spinach. Stir gently, cover the pan and let set for 5 minutes or until the sauce is warmed.
To serve, toss the spinach to combine ingredients. Sprinkle with pepper.
PER SERVING: 51 Calories | 1.1g Fat (18% calories from fat) | 4.7g Protein | 6.4g Carbohydrates | 1 mg Cholesterol | 119mg Sodium