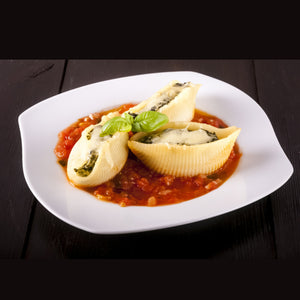 PREPARATION: 50 minutes – Makes 8 servings
EQUIPMENT:   Kitchen Machine food cutter, 8-quart Stockpot, Culinary Pasta/Steamer insert, 3-quart stainless Mixing Bowl, 13-onch French Gourmet Skillet
INGREDIENTS:
1 12-ounce box jumbo shells
FILLING
2 pounds ricotta cheese
1 cup mozzarella cheese shredded #2 cutting cone.
½ cup Romano cheese, grated #1 cutting cone
3 eggs, beaten.
1 10-ounce package frozen chopped spinach thawed and drained.
3 cups Spaghetti Sauce*
2 tablespoons Parmesan cheese grated #1 cutting cone.
2 teaspoons fresh Basil, chopped.
DIRECTIONS:
Place 5 quarts of filtered or purified water in the 8 Qt. Stockpot and bring to a boil over medium- heat 275ᵒF. Place shells in the Pasta/Steamer insert inside the 8 Qt. Stockpot and cook 8 to10 minutes. Shells should be cooked but firm. Remove Pasta insert and set aside to drain.
While the pasta is cooking, in the 3 Qt. stainless Steel Mixing Bowl combine ricotta and ¾-cup mozzarella cheese, eggs, and spinach, mix well. Fill each shell with approximately 1 tablespoon filling and top with mozzarella cheese. Cover the bottom of the 13-inch Chef Pan with 1 cup Marinara sauce and place stuffed shell seam-side up in the pan. Cover and cook over medium-low heat 175ᵒF for 20-25 minutes.
To serve: top with Parmesan cheese and chopped basil.
Marinara sauce is not included in nutritional breakdown. See Marinara sauce for nutritional breakdown.
NUTRITIONAL BREAKDOWN PER SERVING: Calories 291; Fat Grams 10; Carbohydrate Grams 25; Protein Grams 23; Cholesterol mg 24; Sodium mg 704.
THE POINT SYSTEM: Calorie Points 4; Protein Points 3; Fat Grams 10; Sodium Points 31; Fiber Points 1; Carbohydrate Points 1 ½; Cholesterol Points 2.