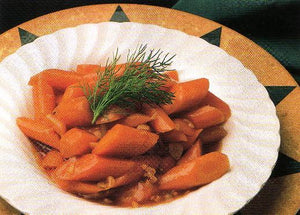 Spicy Carrots
Serves: 6
Preparation Time: 20 minutes
Equipment: French Chef Knife, Cutting Board, Kitchen Machine food cutter, Large Skillet
2 teaspoons safflower oil

1 tablespoon garlic, minced

1 tablespoon ginger, grated #1 blade

½ teaspoon crushed red pepper

1 ½ pounds (700 g) carrots, scrubbed well and cut in diagonal pieces

2/3 cups (160 ml) chicken broth or homemade chicken stock

3 tablespoons soy sauce

2 tablespoons soy sauce

2 tablespoon apple cider vinegar

2 teaspoons sugar

1 tablespoon cornstarch

2 tablespoon water
Preheat oil in the Large Skillet over medium-high heat. Add garlic, ginger, and red pepper, stir well. Add carrots, chicken stock, soy sauce, cider vinegar, sugar, and stir. Bring to a simmer, cover (close vent) and reduce the heat to low. Cook about 10-12 minutes or until carrots are tender.
In a small bowl, combine cornstarch and water, stirring until smooth. Stir into spicy carrots and cook 1-2 minutes until slightly thickened.
NUTRITIONAL BREAKDOWN PER SERVING: Calories 84; Fat Grams 2; Carbohydrate Grams 16; Protein Grams 2; Cholesterol mg 0; Sodium mg 641 (440 with homemade chicken stock).
THE POINT SYSTEM: Calorie Points 1; Protein Points 0; Fat Grams 2; Sodium Points 28 (18 with homemade chicken stock); Fiber Points 1; Carbohydrate Points1; Cholesterol Points 0.