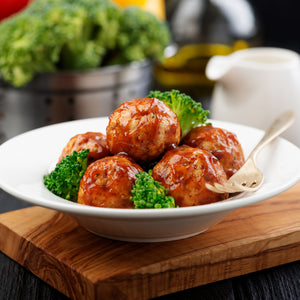 Spicy Buffalo Chicken Meatballs will quickly become a family favorite.
EQUIPMENT: 5 QT Stainless Mixing Bowl, Kitchen Machine Food Cutter, 13" French Skillet (13" Paella Pan, 13" Casserole Pan, or Electric Skillet), ¾ QT Butter Warmer.
INGREDIENTS:
1-pound lean ground chicken
1 egg
1/2 cup Italian Breadcrumbs
1 carrot, shredded #1 Cone.
1 stalk celery, shredded #1 Cone
1 medium onion chopped #2 Cover.
2 cloves garlic, minced fine or pureed
1 – 2 ounces crumbled blue cheese
1/2 cup Crystal Hot Sauce (or your favorite), divided.
2 tablespoons unsalted butter
DIRECTIONS:
In a large bowl, combine the chicken, egg, breadcrumbs, carrot, celery, onion, garlic, blue cheese, and 1/2 the hot sauce.
Gently fold together to combine, but don't over mix.
Form the mixture into 20 to 24 small meatballs.
Spray skillet with cooking spray or melt 1 tablespoon unsalted butter in preheated skillet over medium-heat (for light brown to crispy 275°F to 350°F Induction or Electric Skillet).
Place the meatballs in skillet turn as they brown, about 20-25 minutes. Alternative; bake on greased cookie sheet in 350°F oven for 20 minutes.
Remove the meatballs from the skillet and reduce the heat to low. To deglaze the pan, add butter and hot pepper sauce.
TO SERVE: Place the meatballs onto a serving dish and drizzle with butter/hot sauce mixture. Serve with Long Red Italian Sweet Peppers and Blue Cheese Dressing.