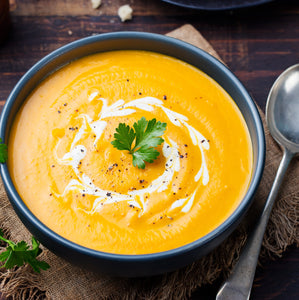 As explained in Britanica Online: "Basques" are the people who live in both Spain and France in areas bordering the Bay of Biscay and encompassing the western foothills of the Pyrenees Mountains.
"Basque Style" refers to their mysterious language and the tendency of Basques to stick with their lifelong social group (toda la vida). "Basque Style" in reference to "food," is a dish, soup or bisque, or finger food accompanied by a small glass of wine or beer.
Spain is the largest producer and consumers of Pumpkins in Europe.
SERVES: 6 to 8
PREPARATION: 45 minutes – makes 4 to 6 servings
EQUIPMENT: Health Craft Food Cutter, Chef knife, 5-quart soup / stockpot.
INGREDIENTS:
½ stick unsalted butter, softened
2 medium onions, chopped #2 cutting cone
4 cloves garlic, slice thin #4 cutting cone
1½ teaspoons curry powder
½ teaspoons cayenne pepper
½ teaspoons ground coriander
1 cup chicken broth, or low-sodium chicken stock (page 217 Healthy Meat and Potatoes cookbook)
1-pound cooked pumpkin - about 4 cups packed
1 cup light cream (or half-and-half)
1 cup crème fraiche or Sour crème
1 tablespoon fresh parsley, chopped
DIRECTIONS
NOTE: I prefer to cook the grated pumpkin in a pan stovetop the waterless way. You can also bake the grated pumpkin in the oven at 350ᵒF covered 45 minutes.
In the 5-quart, melt butter over medium to medium-low heat 210-270°F (88-99°C). Add onions and garlic; cook in hot butter until tender, about 5 minutes, stirring occasionally. Add curry powder, cayenne, and coriander. Cook and stir for 5 minutes more. Add chicken broth and bring to simmer; uncovered, for 25 minutes.
Stir in pumpkin and half-and-half into the onion mixture. Cover and open the whistle valve, continue to cook over medium to medium-low heat 210-270°F (88-99°C) until the whistle sounds. Close the whistle value and reduce to low-heat 150-180°F (66-82°C), cook about 10 minutes or until heated through. (Do not boil). Remove from heat, cool mixture slightly.
Using a handheld immersion blender, blend soup mixture until smooth; heat through before serving. (Or let soup cool slightly. Transfer mixture, one-third at a time, to a blender or food processor. Cover and blend or process until smooth. Return soup to saucepan; heat through for serving.
To serve, ladle the hot soup into warm soup bowls. Top each serving with crème fraiche and fresh parsley. Serve immediately.
Serving tip: If you like, serve the bisque in roasted pumpkins. Wash and dry small pie pumpkins. Cut off tops and place on a large cookie sheet. Roast in a 375°F (191°C) degrees oven for 40 minutes. Fill with soup and garnish.
Serving tip: For restaurant-style drizzles, put the crème fraiche into a squeeze bottle (like the kind used for ketchup). Just before serving, draw a zig-zag drizzle, a spiral or even the outline of a pumpkin on the top of your soup for an artistic garnish.
Nutrition facts: Servings Per Recipe 8, calcium (mg) 81, Cobalamin (Vit. B12) (µg) 0, Niacin (mg) 0, Riboflavin (mg) 0, Folate (µg) 16, Pyridoxine (Vit. B6) (mg) 0, Trans fatty acid (g) 0, vit. A (IU) 8843, Potassium (mg) 242, Thiamin (mg) 0, vit. C (mg) 7, Polyunsaturated fat (g) 1, Monounsaturated fat (g) 6, sugar (g) 4, sodium (mg) 551, iron (mg) 1, fiber (g) 2, Fat, total (g) 21, carb. (g) 11, sat. fat (g) 13, chol. (mg) 70, pro. (g) 3, cal. (kcal) 233