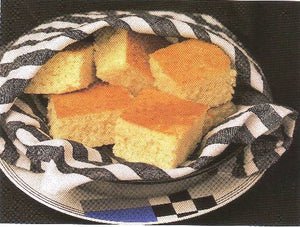 Southern Cornbread on top of the stove
Serves: 16
Preparation Time: 60 minutes
Equipment: 5-quart stainless Mixing Bowl, 13-inch Chef Pan
2 whole eggs

4 cups white self-rising cornmeal

3 cups (720 ml) 1% milk

4 tablespoons sugar

2 tablespoons unsalted butter or low-cal margarine
In the Large Mixing Bowl, whisk eggs until frothy, add flour, milk, sugar, and mix well. Melt butter in 13-inch (33 mm) Chef Pan over medium heat. Pour the batter in the pan, reduce to low heat, and cover (vent closed) bake for about 45 minutes. Test for doneness with toothpick.
NOTE: A tip when baking on top of the stove, or in our Electric Saucepan or Skillet. When removing the lid, invert immediately and move from over the top of what's baking. The moisture condenses on the lid and will drip when vapor seal is broken.
NUTRITIONAL BREAKDOWN PER SERVING: Calories 162; Fat Grams 2; Carbohydrate Grams 31; Protein Grams 5; Cholesterol mg 2; Sodium mg 511.
THE POINT SYSTEM: Calorie Points 2; Protein Points 1; Fat Grams 2; Sodium Points 22; Fiber Points 1; Carbohydrate Points 2; Cholesterol Points 0.