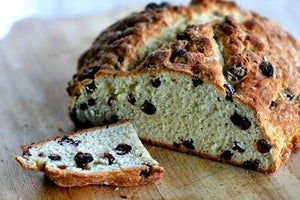 Soda Bread
Yields: 2 dozen
Preparation Time: 1 hour 10 minutes
Equipment: 4-quart stainless Mixing Bowl, Large Saute Skillet, 10-inch Gourmet Skillet
4 cups flour

1 teaspoon baking soda

1 teaspoon salt

1 tablespoon unsalted butter

½ cup (120 ml) buttermilk

½ cup raisins (optional)
Sift flour, baking soda and salt together into 4-quart Mixing Bowl. Cut in butter with a fork or pastry cutter. Add buttermilk and stir. Knead dough for several minutes on a floured surface. Form into 2-inch balls; flatten slightly. Using a floured knife, cut slits in tops of dough balls. Place in ungreased Large Skillet and cover with inverted 10-inch Chef Skillet to form a high dome cover, bake over low heat for 45 minutes or until done.
NUTRITIONAL BREAKDOWN PER SERVING: Calories 246; Fat Grams 2; Carbohydrate Grams 48; Protein Grams 7; Cholesterol mg 4; Sodium mg 456.
THE POINT SYSTEM: Calorie Points 3 ½; Protein Points 1; Fat Grams 2; Sodium Points 19; Fiber Points 1; Carbohydrate Points 3; Cholesterol Points 0.