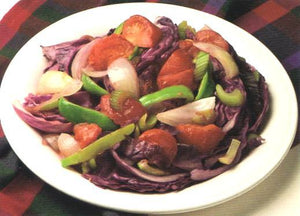 Skillet Cabbage
Serves: 8
Preparation Time: 30 minutes
Equipment: French Chef Knife, Cutting Board, Kitchen Machine food cutter, Large Skillet
2 slices bacon, chopped (optional)

4 cups red cabbage, shredded blade #5

1 green pepper cut in strips

2 cups celery diced

2 medium onions, quartered and julienne blade #2

2 tomatoes cut in half with each half cut in quarters

2 teaspoons sugar

Salt and Pepper to taste
In the Large Skillet brown bacon over medium heat, remove bacon to paper towels. Reduce heat to medium-low; add cabbage, green pepper, celery and onion. Cover (close vent) and cook 15 minutes. Stir in tomatoes and sugar, cover and cook an additional 10-15 minutes.
NUTRITIONAL BREAKDOWN PER SERVING: Calories 64; Fat Grams 1; Carbohydrate Grams 13; Protein Grams 2; Cholesterol mg 1; Sodium mg 60.
THE POINT SYSTEM: Calorie Points 1; Protein Points 0; Fat Grams 1; Sodium Points 3; Fiber Points 2; Carbohydrate Points 1; Cholesterol Points 0.