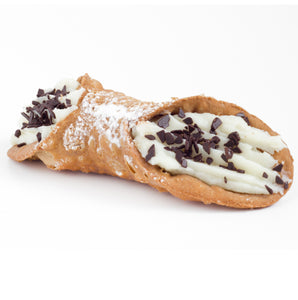 Cannoli a staple of Sicilian cuisine, is a pastry consisting of tube-shaped fried pastry dough shells, stuffed with a sweet ricotta cheese filling, and topped off with chocolate and/or pistachios.
The traditional cannoli originated around Messina and Palermo. It is believed that the cannoli's filling originated with the Saracens, an ancient Arabic people, when they brought sugar cane to region. Cannoli were once referred to by the Sicilians as Cappeli de Turchi, or Turkish hats.
EQUIPMENT: Mixing bowls, food cutter with #1 cutting cone, pan for deep frying, frying thermometer, cannoli tubes, pastry bag
PREPARATION TIME: 1 hour 30 minutes – makes 12 cannoli
FRIED CANNOLI PASTRY
1 ½ cups all-purpose flour
1 egg, separated
2 ½ tablespoons sugar
1 tablespoon brandy
2 ½ tablespoons Marsala wine
2 tablespoons unsalted butter, room temperature
3 tablespoons almond oil for cannoli tubes
Crisco or pure golden Italian olive oil for frying
CANNOLI FILLING
1 cup 8 ounces homemade ricotta cheese
1 cup powdered sugar
1 teaspoon orange or lemon zest, grated #1 cutting cone
1-ounce semi-sweet dark chocolate chips
1-ounce chopped pistachios
CANNOLI TUBES:
Sift the flour into a mixing bowl and make a well in the middle. Drop in the egg yolk and add sugar, brandy wine, and butter. Mix rapidly with a wooden spoon adding more wine if necessary. The dough should be smooth and elastic. Shape into a ball, wrap in cheesecloth and set aside for at least 1 hour.
Rollout the dough thinly and cut into 12 equal rounds or squares. Rub the cannoli tubes with almond oil and wrap the dough diagonally around the tubes, starting with one corner of the square and finishing with the opposite corner. Lightly beat the egg white and use it to moisten the overlapping dough. Seal together to prevent the dough from unwrapping during frying. Deep fry, 2 or 3 at a time in 350ᵒ to 375ᵒF hot Crisco or olive oil until deep golden brown with small blisters on the surface. Lift out with a slotted spoon and drain on paper towels. When cool enough to handle, slide off tubes carefully not to break the cannoli.
A wooden dowel is the traditional Sicilian method of creating cannoli tubes. Using a thick piece of dowel or a broom handle, cut the wood into seven or eight-inch lengths, then grease with a food safe oil, such as olive oil.
CANNOLI FILLING:
In a mixing bowl combine homemade ricotta cheese, sugar and lemon or orange zest. Mix well with a wooden spoon.
Using a pastry bag fill the cannoli just before serving or the pastry will become soggy. Dip ends in chocolate and/pistachio. Top with sifted confectioners' sugar and serve.