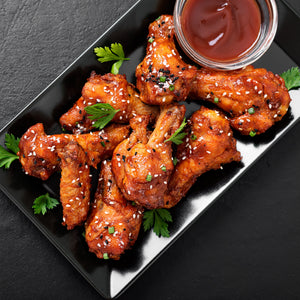 Sesame Chicken Wings
PREPARATION: Time: 25 minutes – makes 6 servings
INGREDIENTS"
12 chicken wings
1 tablespoon precooked black beans.
1 tablespoon water
2 cloves garlic, minced.
1 tablespoon fresh ginger, grated blade #1
3 tablespoons dry sherry or rice wine
¼ teaspoon black pepper
1 tablespoon sesame seeds
1 green onion, chopped.
DIRECTIONS:
Using a knife or poultry shears, trim and discard wing tips, separate wings into two parts.
In mixing bowl, crush beans with fork, add water and set aside.
To cook, preheat 11" Stir Fry Skillet/3 quart Saucier on medium-high heat; add chicken, garlic, and ginger. Stir fry until wings are lightly browned. Add soy sauce and sherry, stir fry 1-2 minutes. Add soaked black beans, pepper, and sesame seeds. Cover with vent open; reduce heat to low, simmer 8-10 minutes.
Uncover, increase heat to medium-high. To glaze wings in sauce, stir occasionally until liquid has almost evaporated and wings are glazed in sauce. Remove from heat, sprinkle with sesame seeds, and stir to coat.
TO SERVE, arrange wings on serving platter, top with chopped green onions and garnish with sliced lemon, lime, or orange.
Variation, to reduce cholesterol and fat calories, trim or remove skin from chicken.