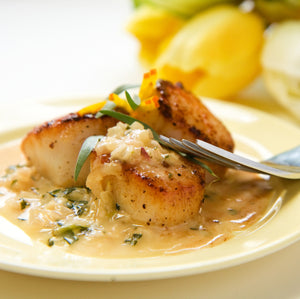 Funny things happen on LIVE TV… I had dinner at Vic's in San Francisco preceded by a wonderful appetizer of Scallops & Shallots in a Hollandaise Cream Sauce - then jumped on a Redeye flight back to Tampa. A few hours after arriving I am on live TV without sleep and struggling to remember the recipe and shallots calling them scallions. You can hear Jack attempting to prompt my foggy memory. I never cooked the recipe before performing it live – writing down what I believed to be the ingredients during the flight. Needless to say, I was tired and a bit dizzy, Jack noticed that as well – you can hear him asking me if I am OK - but that's live TV. BTW the recipe turned out great. Scroll down for the video Harris Live WELA-TV enjoy!
EQUIPMENT: 1-quart saucepan, 9.5-inch 1.7-quart sauté skillet, cutting board, French chef knife
PREPARATION TIME: 20 Minutes - Makes 4 Servings or a Romantic Dinner for two
INGREDIENTS.
3 egg yolks, room temperature
1 tablespoon Lemon juice
2 tablespoons unsalted butter, room temperature
dash Cayenne pepper
1 tablespoon unsalted butter
1 tablespoon olive oil
3 shallots, sliced.
2 shallots, diced.
2- or 3-pieces pancetta or Prosciutto Italian ham, chopped
1 tablespoon fresh basil, chopped.
12 fresh sea scallops, pat the scallop dry with a paper towel
¼ cup heavy cream
1 tablespoon fresh chives, long chop
Mock Hollandaise Sauce
In the 1-quart saucepan over medium-low heat 200ᵒF, add the egg yolks and whisk until lemon yellow and slightly thick, about 2 minutes. Note: the heat must be low enough so as not to scramble the egg yolks. Whisk in lemon juice, butter, and cayenne pepper. Whisk constantly while butter is melting and is thick enough to see the bottom of the pan between strokes. Remove from the heat and set aside.
Caramelize Shallots
In the 1.7-quart sauté skillet, caramelize the sliced shallots in olive oil and butter over medium heat 350ᵒF until "browned or crisped" not burnt, about 7 to 10 minutes. Remove caramelized onions from pan and drain on a paper towel.
Create the base for Pan Sauce
In the same 1.7-quart sauté skillet using drippings from caramelized shallots, over medium heat 350ᵒF, sauté the chopped shallots until tender about 3 minutes, add the pancetta and basil continue to stir about 2 minutes. 
Brown the Scallops
Add the scallops to the shallots and pancetta and continue to cook until slightly browned, about 2 to 3 minutes per side. Remove the scallops from the pan and set aside.
Create the Pan Sauce
Continue in the same pan… reduce the heat to medium-low 225ᵒF add 2 or 3 tablespoons of the Hollandaise sauce to the pan drippings and stir. Add the cream and stir to combine. Adjust the sauce with salt and pepper to taste.
Add the scallops back to the pan to reheat and continue to cook about 2 to 3 minutes as the sauce thickens.
To serve
Plate three scallops 3 to a plate, spoon pan sauce over the scallops and top with caramelized shallots and fresh chopped scallions LOL. Actually CHIVES. Enjoy!