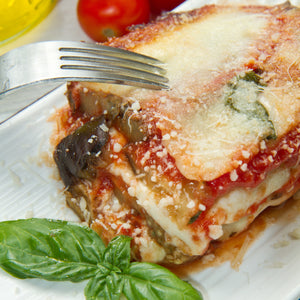 Neapolitan Eggplant Sauce has been a tradition in Naples Italy (Neapolitan Cuisine) going back to the Greco-Roman era. This centuries-old recipe was a well-kept secret until a few decades ago. 
The first recorded history of a sauce made with eggplant dates back to Naples in1839 with the writing of Ippolito Cavalcanti, ''Cusina casarinola co la lengua napolitana''. With eggplant in abundance, it quickly became popular throughout southern Italy. Eggplant sauce is served with pasta, prepared with lasagna, eggplant rollatini, and with eggplant that has been pan-fried in olive oil. With it all eggplant and eggplant sauce has become an Italian tradition.
Basically, Eggplant Sauce is the vegetarian version of a Bolognese Sauce. Again, a version of a classic dish that is determined by regionally available ingredients prior to refrigeration and transportation. This is my personal rendition of Neapolitan Eggplant Sauce.
EQUIPMENT: 6 Qt. stockpot,
PREPARATION TIME: 1 hour – Makes 4 to 6 servings.
1 tablespoon pure golden olive oil (not the green stuff)
1 tablespoon unsalted butter
2 medium carrots diced.
1 medium onion peeled and diced.
1 stalk of celery diced.
7 garlic cloves peeled and diced.
6-ounce can of tomato paste.
1 cup white wine
2 cans of San Marzano crushed tomatoes 28 ounces each
4 tablespoons fresh basil leaves chopped.
1 cup water, purified or filtered (no chlorinated tap water)
1 medium male eggplant peeled and diced.
1 zucchini diced.
½ cup parmesan cheese grated
½ stick unsalted butter
1 tablespoon apple cider vinegar
Note: I do not add salt to my recipes unless needed and only at the end of the cooking process. 
DIRECTIONS:
In a hot stockpot over medium heat 275˚F. Sauté the carrots, onion, celery, and garlic in olive oil and butter until they begin to brown, 5 to 7 minutes, stirring occasionally.  Sauteing simply means softening the vegetables to allow the flavors to combine without browning.
When the vegetables have just begun to brown, add the tomato paste and sauté, stirring until the paste turns reddish-brown in color and a residue form on the bottom of the stockpot. A Fond is a brown residue that forms on the stockpot from sauteing the vegetables and tomato paste. Do not allow the fond to burn.
Deglaze the stockpot with a white Italian wine, stirring until the alcohol burns off and it forms a thick paste, about 5 to 7 minutes. Neapolitan white wines Coda di Volpe, Greco di Tufo, and Falanghina, all blended in Lacryma Christi (Tears of Christ).
Add the crushed tomatoes, fresh basil, and water. Once the tomatoes begin to bubble add the eggplant and zucchini reduce the heat to medium-low 200˚F so the sauce is barely simmering.
Stir in the parmesan cheese and add the butter and vinegar. Stir to combine cook uncovered for about 1 hour, or until the liquid evaporates to desired thickness. Remove the heat.
Serve over 1 pound of linguini-cooked aldente or with baked eggplant. 
NUTRITION: 214 calories; 11 g fat (4 g sat, 5 g mono); 49 mg cholesterol; 8 g carbohydrates; 15 g protein; 2 g fiber; 316 mg sodium; 420 mg potassium.