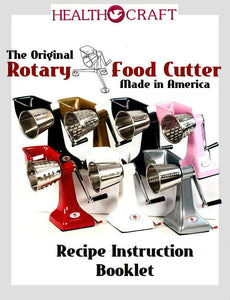 The Original Rotary Food Cutter RECIPE INSTRUCTION BOOKLET for food processor brands manufactured by the M.H. Graham Co.: Aristo Craft, Camelot, Carico, Classica, Colonial, CooksBest, Cook -O-Matic, Cordon Bleu, Crown Regent, DreamWare, Ekco, Flavorite, Flavor Seal, Future Craft, Health Craft, Kitchen Craft, Lustre Craft, RegalWare, Renaware, Royal Prestige, Royal Queen, Salad Master, Seal-O-Matic, Society, Temp-Tone, Thermal Sentinel, Townecraft, Vacumatic, Vita Craft, Vollrath, West Bend, Wonder Ware and others.
The M.H. Graham Company was acquired by the Health Craft Cookware Company in 1992 and they continue to manufacture The Original Rotary Food Cutter to this day. 
Food Cutter recipes and instructions
Paperback:
Publisher: Health Craft 1983
Language: English
Product Dimensions: 8.5 x 5.5 inches
Shipping Weight: 0.3 pounds per book
TRADE-IN your Original Food Cutter and TRADE-UP to our New Modern Food Cutter we will give you back what you paid for it, and you just pay the difference. And we will let you keep your old Food Cutter. Give it to your kids or donate it.
Questions? Text or Call 813-390-1144