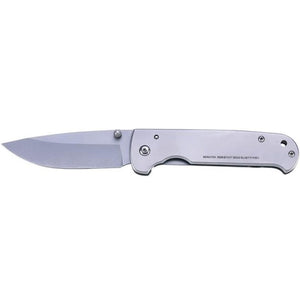 We are excited to introduce the Rostfrei Frame Lock Knife - a perfect combination of durability, style, and functionality. This knife features a bead-blasted 420 stainless steel blade and handle, which ensures its longevity and strength. The handle also boasts a scratch-resistant bead blast finish that adds to its durability and sleek look. The knife is designed with a thumb-stud on both sides of the blade, making it convenient to open and use. It also features a clip, which allows you to attach it to your pocket or belt, ensuring it is always within reach. With a closed length of 4-14 and an open length of 7-12, this knife is compact and easy to carry. It comes gift-boxed, making it a perfect gift for any occasion. Get your Rostfrei Frame Lock Knife today and experience the perfect combination of style and functionality.
The earliest known pocketknives date back to the early Iron Age. A pocketknife with a bone handle was found at the Hallstatt Culture type site in Austria, dating to around 600–500 BCE. Iberian folding-blade knives made by Indigenous artisans and craftsmen and dating to the pre-Roman era have been found in Spain as well. 
From farmers to lawyers, men from all occupations carry pocketknives. The ultimate portable tool, the pocketknife is a useful aid in various tasks, including eating on the go. Pocket knives have been an essential tool for soldiers throughout American history.
What does it mean when someone gives you a pocketknife? Traditionally a bond of friendship, a parental bond, or close relationship... It is a frequent practice in the south for a groom to gift engraved pocketknives to his groomsmen, and his father and father-in-law. A pocketknife is the perfect gift.