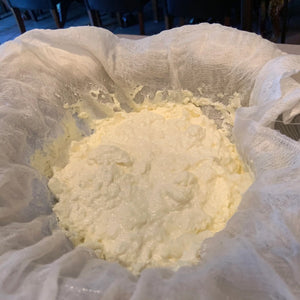 Ricotta Cheese "Homemade" by Chef Charles Knight
You can prepare this recipe with ingredients you have in your fridge right now. Makes 2 to 2½ cups Ricotta cheese. INGREDIENTS: 3 cups whole milk 3 cups heavy cream 1 teaspoon kosher salt 2 tablespoons white wine vinegar 1 tablespoon lemon juice. Call the Chef. 1-800-443-8079
EQUIPMENT: 3 Qt. Saucepan, Whisk, Glass Bowl, 2 to 3 Qt. Fine Sieve, Cheese Cloth
SERVING: makes 2 to 2½ cups Ricotta cheese.
INGREDIENTS:
3 cups whole milk
3 cups heavy cream
1 teaspoon kosher salt
2 tablespoons white wine vinegar*
1 tablespoon lemon juice
In the 3 Qt. saucepan, bring milk and cream to a boil over medium heat. Whisk occasionally. When the milk comes to a boil, remove the saucepan from the heat and stir in white wine vinegar, lemon juice and salt. The acidity of the vinegar and lemon juice will cause the scalded milk to curdle.
Allow the mixture to sit for 10 to 15 minutes, then pour the curds and whey into a sieve lined with cheese cloth sitting over the glass bowl.
The sieve (colander) will strain out the whey, leaving the fresh Ricotta cheese curds. Allow to drain 1 hour for a loose ricotta, and 2 to 3 hours for something a little more spreadable.
*You can use Braggs Apple Cider vinegar to spice it up a bit.
The Many Uses for Ricotta Cheese
Ricotta is a light cheese that is perfect for breakfast, lunch, dinner, and desserts like Cannoli, Cheese Cake, Tarts, and even Ice Cream. It can be used as the base liquid in pancakes, waffles and crepes. Delightful replacement for yogurt or crème fraiche with your granola and fresh fruit. Combined with fresh herbs Ricotta makes the perfect dip or spread when combined with hummus. Add Ricotta to your spaghetti sauce or top off pasta recipes. Everything is better with Ricotta.
NOTE: Don't throw the WHEY away… it can be a substitute in almost any recipe that calls for water, milk, or buttermilk. Perfect as the foundation liquid in bread, pizza dough, and smoothies. It's great for soaking beans, grains and nuts as well as cooking rice. Whey builds muscle and can be used as a topical skin cream.