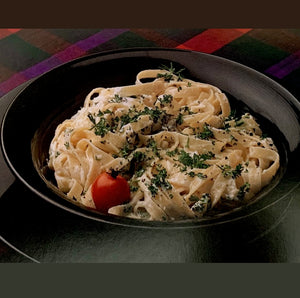 This recipe may seem a bit weird especially to my Italian friends. I am not sure where this recipe originated. Obviously, it is not a true Fettucine Alfredo recipe, but I was curious to try it. I must say that it has an acquired taste but for someone craving Fettucine Alfredo without the calories this recipe is well worth the try. The key is room temperature yogurt (Greek if available), and Parmigiano Reggiano cheese grated exceptionally fine like snow.
PREPARATION: 20 minutes - Serves: 4
EQUIPMENT: 8Qt. Stockpot Pasta/Steamer Set, Chef Knife, Cutting Board, Rotary Food Cutter.
INGREDIENTS:
1 pound fettuccini noodles, cooked aldente
¾ cup plain yogurt or low-fat yogurt, room temperature
¾ cup Parmesan cheese, grated #1 cutting cone
1 teaspoon fresh ground black pepper
2 tablespoons fresh basil, chopped.
DIRECTIONS:
Using the Stockpot with culinary pasta basket, fill the pan with filtered or purified water and bring to a boil over medium heat 275ᵒF. Add fettuccini and salt (optional) and cook until al dente (firm to the bite). Remove Pasta insert, drain, and place pasta in a large serving bowl. Add yogurt, Parmesan cheese, black pepper, toss, and top with chopped parsley.
NUTRITIONAL BREAKDOWN PER SERVING: Calories 75; Fat Grams 2; Carbohydrate Grams 11; Protein Grams 4; Cholesterol mg 16; Sodium mg 265.
THE POINT SYSTEM: Calorie Points 1; Protein Points ½; Fat Grams 3; Sodium Points 12; Fiber Points 0; Carbohydrate Points ½; Cholesterol Points 1 ½.