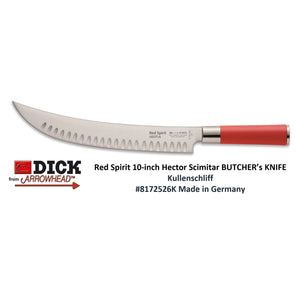 We are excited to announce the arrival of the Red Spirit 10-Inch Hector Scimitar Butcher Kullenschliff from ArrowheadCutlery.com, made by Friedrich Dick of Germany. This knife is not your average soft-steel butcher knife that requires frequent honing. Loved by professionals for its harder steel that can be sharpened quickly with a steel and remain sharp through rigorous use without frequent honing, the Red Spirit knife is ideal for both professional chefs and enthusiastic home cooks. The knife features a 420 stainless steel blade, satin finish, ergonomically designed full tang handle, and black velvet bag. The 10-inch blade is grinded extremely slim, and the cutting edge is polished, providing uncompromising sharpness. The Asian-style handle of the knife is round shaped and offers an extraordinary sense of touch. Order now and experience the passion and inspiration that emerges from this knife series.
Additional New Product Discount @ Checkout
Friedrich Dick has focused on sharpness since 1778: a success story that began with a small file cutter workshop in the southern German town of Esslingen. Today, we manufacture a complete product range for professional chefs and butchers as well as the discriminating home cook.
Strict quality criteria and high design standards characterize the traditional brand for professionals, which is now finding its way into home kitchens worldwide. Every Friedrich Dick knife is made of the highest quality steel and impresses with perfectly balanced blades as well as ergonomically shaped handles for perfect cutting results.