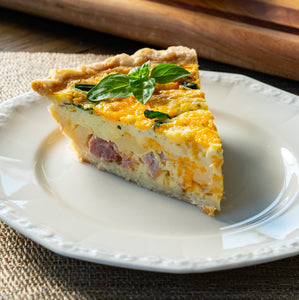 Quiche LeAnn
Although quiche is now a classic dish of French cuisine, quiche actually originated in the medieval kingdom of Lothringen, under German rule, which the French later occupied and renamed Lorraine. In German, the word 'quiche' is 'Kuchen', meaning cake.
This is my wife LeAnn's quick and easy family favorite version of Quiche Lorraine. A fantastic way to celebrate Mother's Day… Only, I will be doing the cooking, baking, and serving. I might even break down and do the cleaning afterward.
EQUIPMENT: 9-inch gourmet skillet, juice-saver stainless steel pie pan, mixing bowl, whisk, kitchen machine food cutter
PREPARATION: 1 hour | makes 8 to 10 servings
INGREDIENTS.
1 homemade pie crust, or readymade.
½ pound maple flavored breakfast sausage, Johnsonville preferred
1 medium shallot, minced.
4 ounces Swiss cheese shredded #2 cone.
4 whole eggs, or 6 egg whites at room temperature
1 cup half-and-half, or skim milk
½ teaspoon cayenne pepper (optional)
¼ teaspoon ground nutmeg
4 basil leaves, chopped.
DIRECTIONS
NOTE: You may want to consider prebaking the shell for about 8 to 10 minutes at 350ᵒF.
Preheat the frying pan over medium heat to 275°F, remove the breakfast sausage from its casing, and sauté until cooked for about 5 minutes. Place on a paper towel to absorb excess moisture and grease. Add the shallots to the skillet and sauté in sausage dripping until slightly browned.
Place the sausage in the prebaked shell and top with sauteed shallots and grated Swiss cheese.
In the mixing bowl whisk the eggs and cream to a froth. Pour egg mixture over sausage. Sprinkle with cayenne pepper and nutmeg. Bake at 350ºF for 35 to 45 minutes. Test for doneness.
Serve with a dressed salad of greens and Mimosa or Champagne.
Juice Saver Pie Pan