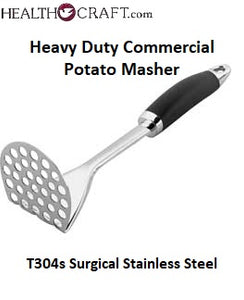 Health Craft Commercial Masher Ricer Heavy Duty
Perfect for Mashing Potatoes, Squash, Sweet Potato and Bananas, Baby Food and Special Diets.
Made of heavy duty T304s surgical quality stainless steel, sturdy, durable and corrosion resistant. High quality soft-touch, non-slip, silicon handle with storage hanging hole. Easy to clean and dishwasher safe.
Fresh, homemade mashed potatoes, cooked the waterless way, offer a texture and taste that is beyond compare. Spend less time prepping and more time enjoying when you utilize this Health Craft Commercial Potato Masher.
Length 11-inches
Maher base 3x3-inches
Weight 6.7- ounces
Shipping weight 10 ounces
1 year warranty
Momma Mia's Mashed Potatoes
Preparation Time 45 minutes - Serves 5 to 6
Ingredients
3 each, a combination of Red, Russet and Yukon Gold cooked the waterless way provides the very best flavor. 8 or 10 potatoes total.
½ teaspoon celery salt
½ teaspoon onion powder
½ teaspoon garlic powder
½ cup mayonnaise (room temperature)
½ cup sour cream (room temperature)
½ teaspoon apple cider vinegar or white distilled vinegar
Dash of sugar
1 egg yolk, beaten (optional)
Unsalted butter
2 tablespoon fresh chopped chives
Directions:
Waterless cooking and not peeling your root vegetables provides maximum flavor, retains minerals, vitamins, and life-giving enzymes. Keeping your vegetables in balance with nature.
Under cold running water, scrub the potatoes with a vegetables brush and remove any surface blemishes with the paring knife. Do not peel. Cut potatoes in quarters.
Place the potatoes in the pan, rinse with cold water and pour the water off. The water that clings to the potatoes is sufficient for cooking the waterless way. Cover the pan, open the vent, and place over medium heat 275ᵒF. When steam begins to escape from the vent and/or the whistle sounds (3 to 5 minutes), close the vent, and reduce the heat to medium low 200ᵒF. Cook for 25 to 30 minutes. Do not peak. Removing the cover will destroy the vapor seal, lengthen the cooking time, and may cause the potatoes to burn.
Serving potatoes HOT is the key so have your ingredients ready. Pour off any excess moisture. Using the potato masher, mash the potatoes in the saucepan, and add the beaten egg yolk (if using). Add all remaining ingredients and mash to desired texture.
Place mashed potatoes in a serving bowl, top with butter and chives.