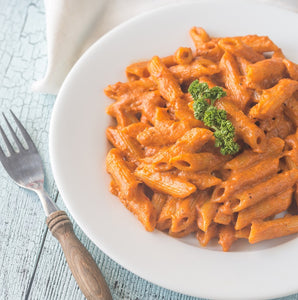 Have you ever wondered what goes into a delectable Italian pink sauce? My homemade vodka sauce is made with hand-crushed tomatoes, onions, garlic, heavy cream or crème fraiche, pork fat, grated Parmesan, crushed red pepper flakes, and a splash of vodka. Contrary to popular belief, vodka isn't meant to add a boozy flavor, but rather to enhance the existing flavors of the sauce.
Penne alla Vodka is a popular pasta dish that originated in Italy and has since become a beloved staple in Italian American cuisine. The dish is said to have been created in the 1970s by Italian chef James Doty, who was inspired by the flavors of a tomato cream sauce and the addition of vodka. The dish gained popularity in the United States in the 1980s and has remained a favorite ever since. Despite its Italian roots, Penne alla Vodka is not a traditional Italian dish, but rather an example of Italian American fusion cuisine. Today, you can find countless variations of Penne alla Vodka, but the classic recipe typically includes penne pasta, a tomato cream sauce, vodka, and Parmesan cheese.
If you've ever tried to make a recipe that calls for crème fraiche, you may have found it difficult to find this ingredient in American grocery stores. While it's a common ingredient in European cooking, crème fraiche is not readily available in the USA. However, there are alternatives that you can use to substitute for creme fraiche in your recipes. One such substitute is sour cream. Both creme fraiche and sour cream are made with pasteurized milk inoculated with specific bacterial cultures, with the main difference being that creme fraiche is fattier and thicker, and sour cream is tangier, lower in fat, and has a more liquid texture. By adding an egg yolk to sour cream, it replicates creme fraiche. So, the next time you're making a recipe that calls for creme fraiche, don't worry if you can't find it - just use this simple substitution instead!
To clarify when a recipe calls for pork fat, it is specifically referring to the fat rendered from pork belly and not the fat from frying bacon. Although bacon is made from pork belly, the fat rendered from frying bacon has a different flavor profile and consistency than pork fat. It is important to note that while they come from the same part of the pig and have a similar taste, there are some key differences between the two. Pork belly is a fatty cut of meat that comes from the belly of the pig, while bacon is made from pork belly that has been cured and smoked. Moreover, pork belly is typically sold in large slabs, while bacon is sliced and packaged in smaller portions. By understanding the differences between these two cuts of pork, you can choose the right one for your recipes and ensure that your dishes turn out as intended.
PENNE ALA VODKA with a TWIST
EQUIPMENT: 3-quart stainless steel mixing bowl, 6 or 8-quart stockpot, rotary mandoline food cutter
VODKA SAUCE
28-ounce can of whole tomatoes crushed by hand
½ to 1 cup vodka
¼ pound pork belly sliced into 1-inch squares
1 medium Spanish onion, diced.
4 cloves of garlic minced.
3 tablespoons tomato paste
1 egg yolk
1 cup

crème fraiche, or 

heavy cream or sour cream
4 tablespoons unsalted butter
1 to 1½ cup parmesan cheese grated.
½ teaspoon crushed red pepper flakes (optional)
1 teaspoon garlic salt (optional to adjust flavor)
1 pound PENNE pasta
¼ cup fresh chopped basil
DIRECTIONS:
When it comes to cooking with tomatoes, using fresh, high-quality ingredients is always ideal. However, there are times when fresh tomatoes may not be available or may not provide the consistent results you're looking for. In such cases, canned tomatoes can be a great alternative. To ensure the best results, it's important to keep a few things in mind. Firstly, when using canned whole tomatoes, it's recommended to crush them by hand in a mixing bowl before adding them to your recipe. This will help to break them down and release their flavors. Secondly, canned vegetables typically have added salt, so be sure to taste your recipe before adding any additional salt.
Add the vodka to the empty tomato can and swirl to combine with the residual sauce. The vodka will enhance the flavor of the tomatoes and give the sauce a unique depth of flavor.
BEGIN COOKING
In the stockpot render the pork belly over medium-high heat 375ᵒF until it is crisp, about 15 to 20 minutes. This will result in about 3 tablespoons of pork fat, which will serve as the flavorful base for the rest of the dish. Add the onions and garlic and sauté in pork fat until tender, about 10 minutes.
Remove the pork belly meat from the stockpot and discard. Add the tomato paste and reduce to medium heat 275ᵒF and stir to combine. Continue to cook until the paste turns a dark red, stir occasionally to prevent burning. The residue that forms on the bottom of the pan will create the base for your sauce.
To deglaze the stockpot, add the vodka and continue to stir until the residue is released from the bottom of the pan. This not only enhances the flavor of your sauce but also thickens it.
Add the crushed tomato sauce and stir to combine.
Stir the egg yolk into the cream until mixed thoroughly and add it to the sauce. Add the butter and stir to combine.
Sir in the grated cheese about ½ cup at a time and a small amount of pepper flakes adjusting to the desired taste.
Add the cooked pasta to the sauce and serve.
SERVING
Top with grated cheese and freshly chopped basil.