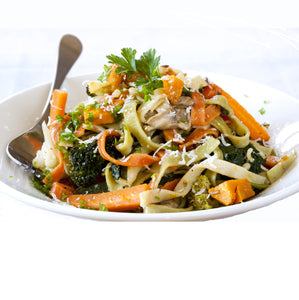 Pasta Primavera
PREPARATION: 30 minutes – Makes 4 servings
EQUIPMENT: French chef knife, Cutting Board, Kitchen Machine food cutter, Large Skillet, 5-quart Stockpot, 1-quart Saucepan, 1-quart stainless Mixing Bowl
INGREDIENTS:
¼ pound fresh mushrooms, sliced #4 blade (to slice, lay sideways in hopper)
4 cloves garlic, minced.
4 broccoli florets cut in half.
½ cup cauliflower sliced
1 small yellow or red pepper sliced.
2 carrots sliced.
1 zucchini diced.
8 ounces fresh linguini or pappardelle pasta
¼ cup hot purified or filtered water
2 tablespoons Chardonnay or another white wine
¼ teaspoon chicken bouillon
¼ cup milk or cream
1 tablespoon all-purpose flour
½ cup Parmesan cheese grated #1 blade
Fresh parsley
DIRECTIONS:
In the Large Skillet sweat down mushrooms over medium heat 275ᵒf about 4-5 minutes stir occasionally. Add garlic and sauté for 2 to 3 minutes. Add broccoli, cauliflower, peppers, carrots and zucchini, cover (close vent), reduce the heat to low 175ᵒf, form the vapor seal and cook waterless 15-20 minutes.
In the 5-quart stockpot cook pasta in purified water until aldente. Drain and set aside.
In the 1-quart saucepan, combine water, wine, and bouillon; bring to a simmer over medium 275ᵒF.
In the 1-quart Mixing Bowl, combine milk and flour, mix well. Gradually add water, wine mixture, stirring constantly until sauce bubbles and thickens. Stir in half of the Parmesan cheese.
Place linguini in large serving bowl, pour sauce over pasta and toss gently. Add the vegetables and toss gently. Top with Parmesan cheese and parsley.