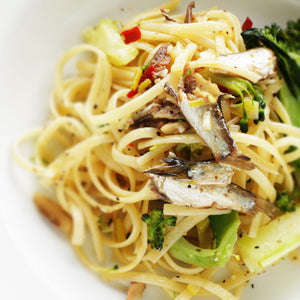 Pasta che Sardi Pasta with Sardines 
Sardines are plentiful in all coastal waters surrounding Sicily and with it the most famous Sicilian cuisine is Pasta and Sardines. Although it originated in Palermo it is served throughout the island.
Pasta with sardines is an absolute must if you are to experience Sicilian cuisine. Although there are many geographical variations this recipe originated in Palermo but has become a favorite with Sicilians and tourists alike. Regardless of the variations, the blend of flavors combines the saltiness of sardines with the sweetness of sultanas (raisins), and it will delight you with an authentic Taste of Sicily. This is my rendition of the recipe from the cookbook The Flavors of Sicily.
PREPARATION TIME: 1 hour – Serves 6
EQUIPMENT: 5-quart stockpot, 13-inch gourmet skillet
INGREDIENTS:
1 medium bulb fresh fennel with hard leaves removed tops trimmed.
1 -pound fresh or frozen sardines
1 medium Spanish onion, chopped.
½ cup olive oil – pure golden Italian olive oil*
3 or 4 anchovy fillets rinsed and deboned.
3 tablespoons golden raisins, Italian if you can find them.
¼ cup toasted pine nuts
¼ cup almond, chopped
½ teaspoon saffron, dissolved in 2 tablespoons hot purified water
1-pound Bucatini pasta
1 cup Italian breadcrumbs, lightly toasted.
½ cup pecorino, grated
DIRECTIONS:
Bring purified water to a simmer over medium-low heat 175ᵒF and the fennel. Simmer for 15 to 20 minutes until tender (do not boil). Drain, reserving the water to cook the pasta. Squeeze the fennel to remove the excess moisture and chop coarsely.
Remove any obvious scales from the sardines and gently pull off the heads. The internal organs in the main cavities of the body will come away with the heads. Using kitchen shears cut down through the bellies and layout flat. Reserve larger pieces for garnish.
In the gourmet skillet, sauté the onion in olive oil over medium heat 275ᵒF until tender, about 3 to 4 minutes. Stir occasionally.
Add the anchovies crushing them with a fork to dissolve in the olive oil. Add the sardines, raisins, pine nuts and almonds. Cook for about 8 to 10 minutes before adding the fennel and saffron water. Stir gently to avoid breaking up the sardines. Reduce the heat to low medium-low heat 175ᵒF.
While the sardines are cooking bring the fennel flavored water to a boil over medium heat 275ᵒF, add the pasta, and cook al dente. Drain and mix the pasta carefully with the sardines and sauce.
Top with pecorino cheese, serve with Italian bread and a full-bodied white wine.