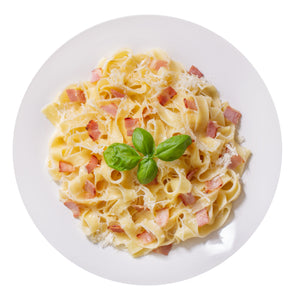 Pasta Carbonaro
PREPARATION: 30 minutes – Makes 8 Serving
EQUIPMENT: French Chef Knife, Cutting Board, Kitchen Machine food cutter, 8-quart Stockpot with culinary Pasta/Steamer Basket, large skillet
INGREDIENTS:
1 pound pappardelle pasta
½ pound pancetta cut in ½-inch squares
½ cup Romano cheese, grated blade #1
¼ cup Parmesan cheese, grated blade #1
3 whole eggs, beaten.
1 tablespoons mayonnaise
1 tablespoon fresh basil, chopped.
DIRECTIONS:
In the 8-quart Stockpot with culinary pasta basket inserted fill with 4.5-quarts of filtered or purified water. DO NOT USE CHLORINATED TAP WATER. Cover and open the vent and cook over medium heat 275ᵒF until the whistle sounds. Add the pasta, cover, and open the vent and cook until al dente (firm to the bite). Remove the culinary Pasta/Steamer Basket to drain.
Prepare the eggs mixture by whisking together the eggs and mayonnaise. Set it aside.
In the large skillet sauté the pancetta over medium heat275ᵒF until it clarifies, add cooked pasta, stir well, and reduce the heat to low 175ᵒF. Slowly stir in the Romano and Parmesan cheese a small amount at a time. Add egg/mayonnaise mixture stirring quickly to keep from curdling.
SERVING: When cooked, garnish with basil and serve.
NOTE*: if pancetta (Italian bacon) is not available, substitute with sliced bacon, sautéed until almost crisp.
NUTRITIONAL BREAKDOWN PER SERVING: Calories 294; Fat Grams 9; Carbohydrate Grams 35; Protein Grams 18; Cholesterol mg 28; Sodium mg 332.
THE POINT SYSTEM: Calorie Points 4; Protein Points 2; Fat Grams 9; Sodium Points 14; Fiber Points 1; Carbohydrate Points 2½; Cholesterol Points 3.