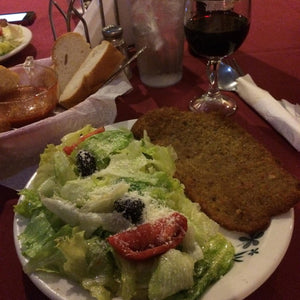 PALAMILLO STEAK
A traditional Cuban dish made with thinly sliced top sirloin steak, breaded, or not breaded, then quickly fried in olive oil, and served with a salad or black beans, yellow rice, and fried plantains.
EQUIPMENT: 13-inch gourmet skillet, 2250ml Ultra-Vac or sealed container, large baking pan, food cutter or chef knife
INGREDIENTS
4 sliced top sirloin steaks ¼-inch thick, about 1½ pounds
8 cloves Garlic minced fine and crushed
2 limes, juice of
1 Spanish onion Juliene #2 cutting cone
Dash of Cumin
¼ teaspoon Dried Oregano
2 Eggs or ¾ cup mayonnaise
½ cup All Purpose Flour
1½ cups Cracker Meal
1 cup Olive Oil for frying
Lime Wedges, for serving
DIRECTIONS
Rub the garlic into the steak on both sides, and place the steak in a sealable container, preferably a vacuum container.
Squeeze the lime juice onto the steaks. Please the squeezed limes in the container, sprinkle with Cumin and Oregano and cover with sliced onions. Cover (vacuum seal) and place in the refrigerator for at least one hour. If no vacuum sealer preferably overnight.
NOTE: The advantage of a Vacuum Sealing Set is that you can marinate in an hour or two what would typically take overnight. The vacuum sealer opens the pores of the meat. You can also use a Vacuum Set to extend the life of fresh fruits, vegetables, cheese and especially meats.
As you remove the Palamillo Steaks from the marinade gently scrape off the garlic and onions back into the container.
TO BREAD or NOT TO BREAD. You can either bread or not bread the Palamillo Steaks. Traditionally, they are not breaded but I do prefer the breaded method.
FRYING THE STEAKS. Preheat the pan with olive oil over medium heat 375ᵒF.
NOT BREADED: Fry the steaks in the hot olive oil about 1½ to 2 minutes per side for medium-rare to medium. Remove to a hot platter to rest.
BREADED: Using a large baking tray place flour on one side and cracker meal on the other side. Scramble eggs to make a batter (you can also substitute mayonnaise – whish I prefer). Rub the flour into the meat. Dip in egg wash or coat with mayonnaise. Press the mayonnaise coated meat into the cracker crumbs.
FRYING BREADED STEAKS: Fry the steaks in the hot olive oil until golden brown about 3 to 4 minutes per side. Remove to a hot platter to rest.
COOK THE MARINADE: Add the marinade to the hot pan with oil and stir fry about 5 minutes. Onions should be slightly brown and undercooked as to have a crunch.
SERVING: Top with cooked onions and garlic from cooked marinade. As an appetizer serve with a salad. As an entree serve with black beans, yellow rice, and fried plantains.