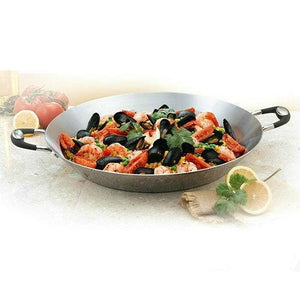 Paella... is an internationally well-known dish of white rice, sausage, seafood, and vegetables (depending on the recipe) originating in the Spanish Autonomous Community of Valencia near lake Albufera, a lagoon in eastern Spain.
The two most widely known types of paella are Valencian paella (Spanish: paella valenciana) and seafood paella (Spanish: paella de marisco). According to Cookapedia: Valencian paella consists of white rice, green vegetables, meat, snails, beans and seasoning.
Our family favorite has an Italian influence originated in the multi-cultural enclave of Ybor City, Tampa. Please scroll down for more detailed instructions.
Paella
Preparation Time: 45 minutes – serve 12 to 16.
Equipment: French chef knife, Cutting Board, Kitchen Machine food cutter, 13-inch Chef Pan/Paella Pan
INGREIDENTS 
2 pounds (1 kg) chicken wings
1 pound (460 g) chorizo
¼ pound (120 g) lean pork, cubed
¼ pound (120 g) ham, cubed
3 onions peeled and chopped #2 blade.
2 green peppers, chopped.
4 cloves garlic, minced.
3 fresh tomatoes, quartered and seeded
1 teaspoon oregano
5 cups (1.25 L) water
½ teaspoon sea salt or kosher salt
¼ teaspoon fresh ground pepper
2 cups uncooked rice
¼ teaspoon saffron
1 pound (460 g) fresh shrimp
½ pound (230 g) cooked lobster, cubed
1 10-ounce (300 g) package frozen peas
1 32 ounce (920 g) can artichoke hearts
1 4 ounce (120 g) can pimentos, sliced
16 clams or mussels
 DIRECTIONS
Preheat 13-inch Chef/Paella Pan over medium or medium-high heat, about 3 minutes. Test the surface with a few water droplets. If the droplets bead up and dance across the surface, the pan is hot enough to brown the chicken, chorizo, pork and ham to seal in juices. Place the meats in the pan; they will stick at first while browning. Cover the pan and open the vent. When the meats loosen, about 5-7 minutes, turn it to brown on the other side. About 4-5 minutes.
Add onions, peppers and garlic, sauté 2-3 minutes, then tomatoes and oregano, sauté 1-2 minutes. Add water, salt, pepper, rice and saffron. Cover (open vent) and reduce the heat to medium, simmer 15 minutes, stir occasionally. Top with shrimp, lobster, peas, artichokes, pimentos, and mussels (clams). Cover (close vent), reduce the heat to medium-low, cook 20 minutes, or until shrimp is cooked through and mussels have opened. 
In Spain there are hundreds of "authentic' recipes for Paella, for into this colorful mélange of rice, seafood, meat, and chicken, anything can go, and typically made with the fresh ingredients of the Region.