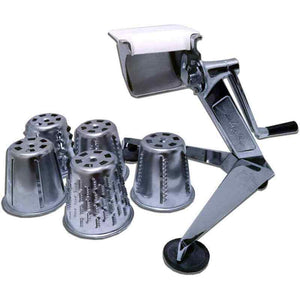 VERY GOOD CONDITION. Recently Taken in on trade.  Like New - looks unused. Instruction Book Included.
Unlike USED or OPEN BOX items sold on eBay and Thrift Stores – all products ordered directly from Health Craft are covered by our liberal and exceptional warranties. Questions? 1-813-390-1144
The 3-Leg Base Saladmaster 5-Star Food Cutter is a precision engineered, simple-to-use manual food processor and cheese grater. It will perform more than 240 cutting operations in your kitchen. It will grate cheese, peel and chop onions, slice garlic, waffle cut carrots and potatoes, French fry cut potatoes, julienne cut hash browns and cook meats. It will even thin or thick slice mushrooms, strawberries and much more.
The 5 precision cutting cones blades are constructed of 420 surgical quality stainless steel. A Food Guide is included for perpendicular cutting and it can be used as a Food Pusher. A Recipe Instruction Booklet is included. Under rigorous use your Rotary Food Cutter will provide a lifetime of superb service.
Don't be fooled by imitations and look-a-likes. Exclusive Features:
Double Purpose Food Guide
Easy to clean and store
Wide mouth hopper
5 numbered surgical stainless steel cutting cones
Tri-Pod 3-Leg Base
Suction Cups made of long-lasting synthetic rubber
Extra-long handle for ease of use
Accommodates up to 6.5 inch high bowl
Limited Lifetime Warranty
NEED HELP? Call or text 1-813-390-1144