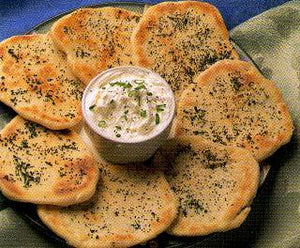 Nan Bread
Baked Leavened Bread from India
Serves: 4
Preparation Time: 45 minutes
Equipment: Measuring spoons, large stainless Mixing Bowl, 1-quart Saucepan, 10-inch Gourmet Skillet
1 cup whole meat wheat flour

1 teaspoon sugar

½ teaspoon baking powder

½ teaspoon salt

3 tablespoons milk

¼ cup plain yogurt

1 ounce (30 g) yeast dissolved in a little bit of milk

2 tablespoons unsalted butter, melted or 1 egg yoke

1 tablespoon poppy seeds
Sift flour, sugar, baking powder and salt into large mixing bowl.
In Saucepan, warm milk and yogurt on low heat, add yeast, butter and egg. Whisk to combine thoroughly.
Make a depression in the center of flour and pour milk mixture a little at a time until all is absorbed. On floured surface knead well for about 15 minutes until smooth and springy, adding a little more flour if the dough is sticky. Cover and leave to rise until double in bulk size (approximately 2 hours, unless weather is hot, in which case dough might rise in half the time).
Divide into 8 equal portions and roll into balls with well floured hands. Cover and set aside for about 15 minutes. Flatten each ball into a thick pancake. With the help of a little flour, toss from one palm to the other.
To Bake: Brush tops with melted butter or beaten egg yolk, sprinkle with poppy seeds. Cook in preheated 10-inch Gourmet Skillet on medium-heat; when first side is browned, flip and brown the other side.
NUTRITIONAL BREAKDOWN PER SERVING: Calories 343; Fat Grams 10; Carbohydrate Grams 51; Protein Grams 16; Cholesterol mg 69; Sodium mg 435.
THE POINT SYSTEM: Calorie Points 4 ½; Protein Points 2; Fat Grams 10; Sodium Points 19; Fiber Points 3; Carbohydrate Points 3 ½; Cholesterol Points 7.