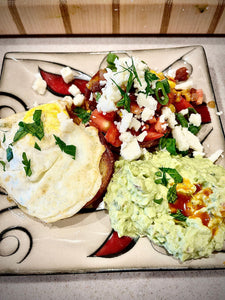 Huevos con tocino, maíz, salsa de tomate sobre tostadas de masa fermentada is a breakfast brunch or dinner consisting of a fried egg on toasted and buttered sourdough bread topped with a Bacon-Corn-Tomato Salsa, crumbled cheese, sliced scallions, and guacamole.
This recipe came from our longtime customer Scotty. Thank you!
PREPARATION: 1 hour - makes 4 servings
EQUIPMENT: 11-inch Gourmet Skillet, 13-inch Gourmet Skillet
INGREDIENTS:
4 strips of thick bacon diced.
1 cup fresh or frozen corn kernels
½ onion chopped
7 cloves garlic minced.
1 dash or more Cayenne pepper
2 limes and the juice thereof
2 Roma tomatoes diced.
½ cup Cilantro chopped
1 cup queso fresco cheese crumbled.
½ cup scallions chopped
4 eggs fried or poached
4 tablespoons unsalted butter
8 slices toasted sourdough or Italian bread buttered.
DIRECTIONS:
In the 11-inch gourmet skillet over medium heat 275ᵒF sauté the bacon and render the fat, about 10 minutes until crisp. Stir occasionally.
Add the corn to the skillet and sauté until lightly browned, about 10 minutes stirring occasionally.
Add the onions and garlic and sauté until cooked, about 10 minutes, stirring occasionally. Add a dash of cayenne pepper, stir, remove from the heat, and set aside to cool.
When the bacon-corn mixture is sufficiently cooled add fresh chopped tomatoes, cilantro, and lime juice then stir to combine.
Prepare the eggs over easy, or medium, however, you like over medium-low heat 220ᵒF using unsalted butter as a lubricant.
While the eggs are cooking prepare the toast and butter then place two pieces of toast on each plate.
SERVING:
Place the fried egg on one slice of toast. Top the other slice of toast with corn-bacon-tomato salsa and crumbled cheese and scallions.