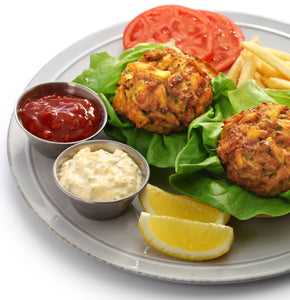 Crab cakes have become a staple in seafood cuisine, but have you ever wondered about their origins? The history of crab cakes dates back to the early 19th century in the Chesapeake Bay region of Maryland. Fishermen would often catch an abundance of blue crabs and needed a way to use the meat before it spoiled. Thus, the crab cake was born.
Originally, crab cakes were made with just crab meat, saltine crackers, and egg, and were fried in lard. Over time, the recipe has evolved to include a variety of ingredients such as Panko or Italian breadcrumbs, mayo, mustard, Worcestershire sauce, and Old Bay seasoning.
In the 20th century, crab cakes became a popular dish in restaurants along the East Coast and eventually throughout the United States. Today, you can find crab cakes served in a variety of ways, from traditional Maryland style to more modern twists with added flavors and sauces. But did you know that there are countless variations of this delicious dish? From Cajun-spiced crab cakes to Asian-inspired crab cakes with ginger and soy sauce, the possibilities are endless! Whether you're a fan of spicy or mild flavors, prefer your crab cakes pan-fried or baked, or like to experiment with different seasonings and fillers, you're sure to find a recipe that suits your taste buds. So why not try something new and discover the infinite ways to enjoy crab cakes today?
Next time you enjoy a delicious crab cake, take a moment to appreciate the rich history and evolution of this beloved seafood dish.
MARYLAND CRAB CAKES by Judith Treharne with the two best complimentary sauces ever. Cocktail Sauce and Tartar Sauce recipes by Chef Charles Knight. Questions? Text or call the chef 1-813-390-1144

EQUIPMENT: Large stainless mixing bowl, stainless cookie sheet, large skillet, or electric skillet
PREPARATION TIME: 30 minutes - makes 6 crab cakes
INGREDIENTS:
1 large egg
2½ tablespoons mayonnaise (I like Hellman's Real)
1½ teaspoons Dijon mustard (I like Maille brand)
1 teaspoon Worcestershire sauce
1 teaspoon Old Bay seasoning
¼ cup finely diced celery (you will need one stalk)
2 tablespoons finely chopped fresh parsley
1-pound lump crab meat*
½ cup panko (I like the Whole Foods 365 brand for this recipe)
2 tablespoons unsalted butter
In the large mixing bowl, combine the egg, mayonnaise, Dijon mustard, Worcestershire, Old Bay, celery, and parsley and mix well. Add the crab meat (be sure to check the meat for any hard and sharp cartilage) and panko; gently fold mixture together until just combined, being careful not to shred the crab meat. Shape into 6 crab cakes (about ½ cup each) and place on prepared baking sheet. Cover and refrigerate for at least 1 hour.
Preheat the large skillet over medium heat 275°F (135°C) heat and melt the butter.
When the butter begins to bubble, place crab cakes to pan and cook until golden brown, about 3-5 minutes per side. Serve immediately with tartar sauce or a squeeze of lemon.
QUICK TARTAR SAUCE
EQUIPMENT: 1 Qt. Mixing bowl, measuring cup, measuring spoons
PREPARATION TIME: 5 Minutes – Makes 4 to 6 servings
INGREDIENTS:
1 cup mayonnaise
1½ tablespoons sweet pickle relish
1 teaspoon Dijon mustard
1 tablespoon minced red onion
1-2 tablespoons lemon juice
Salt and freshly ground black pepper, to taste
Directions: Mix all ingredients together in a small mixing bowl. Cover and chill until ready to serve.
The Best COCKTAIL SAUCE You Ever Had
EQUIPMENT: 1 Qt. Mixing bowl, measuring cup, measuring spoons
PREPARATION TIME: 5 Minutes – Makes 4 to 6 servings
INGREDIENTS:
1 cup catsup
½ cup prepared horseradish
1 tablespoon Dijon mustard
1 tablespoon Worcestershire sauce
1 tablespoon Crystal hot sauce
1 juice of one small lime
I like to combine the ingredients in a 1-quart Pyrex measure cup. Combine all the ingredients, mix well. Cover with plastic wrap and place in refrigerator until ready to serve.
To serve, with cooked shrimp and lobster, raw clams and oysters, and crab cakes