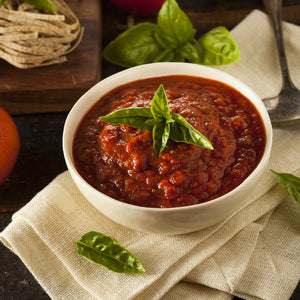 PREPARATION: 2 hours - Yields: 2-quarts
EQUIPMENT: French chef knife, Cutting Board, Kitchen Machine food cutter, 5-quart Stockpot
INGREDIENTS:
1 tablespoons olive oil
1 tablespoon unsalted butter
½ cup onion, chopped #2 blade
1 12-ounce can tomato paste.
½ cup Chianti wine
4 cups water
1 tablespoon dried basil, or fresh, chopped.
1 tablespoon oregano dried, or fresh, chopped.
2 tablespoons fresh parsley, chopped.
1 14.5 ounces can dice tomatoes, or 2 pounds plum tomatoes, peeled, seeded and chopped.
DIRECTIONS:
In the 5-quart Stockpot sauté onion in olive oil and butter over medium heat 275ᵒF until tender, 5-7 minutes. Add tomato paste and fry until tomato paste turns Indian red. Tomato paste will leave residue on bottom of pan, be sure to stir to prevent from burning. Deglaze pan with wine and cook down until tomato wine mixture thickens and alcohol is cooked off.
Add water and spices, mix well reduce the heat to low 175ᵒF and simmer uncovered 45 minutes or until reduced by one-third. Add tomatoes, mix, and simmer an additional 15-20 minutes.
NUTRITIONAL BREAKDOWN PER SERVING: Calories 73; Fat Grams 3; Carbohydrate Grams 9; Protein Grams 1; Cholesterol mg 0; Sodium mg 330.
THE POINT SYSTEM: Calorie Points 1; Protein Points 0; Fat Grams 3; Sodium Points 14; Fiber Points 0; Carbohydrate Points ½; Cholesterol Points 0.