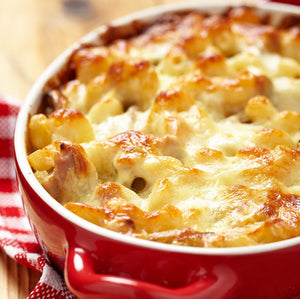 Mac and Cheese is a beloved comfort food, but do you know its origins and how it became so popular? The dish can be traced back to 14th century Italy, where a similar dish called maccheroni was popular. However, it wasn't until the 1800s that mac and cheese as we know it today started to gain popularity. In the United States, Thomas Jefferson is often credited with introducing the dish after he tasted it in Europe. By the late 1800s, boxed mac and cheese became available, making it a convenient and affordable meal option. Today, it remains a popular comfort food and can be found on menus in various forms, from classic to gourmet.
BAKED MAC N CHEESE -The Best Ever!
EQUIPMENT: Measuring cup and spoons, food cutter, #1 Grating cone for grating cheese, and #2 cone to Julienne cut for block cheese, 3-quart saucepan, and 2-quart steamer/strainer, 1-quart saucepan.
PREPARATION: 1 hour - Makes 4 to 6 servings
INGREDIENTS
½ pound elbow macaroni or cavatappi pasta #87
2 tablespoons unsalted butter
2 tablespoons all-purpose flour
¼ teaspoon freshly grated nutmeg or dried ground nutmeg
¼ teaspoon of hot dry mustard
½ cup Half N Half
¾ cup whole milk
6 ounces of Velveeta cheese
¼ cup Swiss cheese chopped or grated
¼ cup 4 tablespoons cream cheese
¼ cup cheddar cheese chopped or grated
1 cup whole milk; or rice milk for dairy free
TOPPING
2 tablespoons unsalted butter
½ cup season Panko breadcrumbs
½ cup seasoned or Italian breadcrumbs
½ cup Pecorino or Parmesan cheese grated
DIRECTIONS
Bring your 3-quart three-quarters full of purified or filtered water to a boil over medium heat at 275°F and cook pasta until al dente. Drain the pasta through the steamer/strainer set aside and keep warm. (DO NOT USE CHLORINATED TAP WATER). Clean the 3-quart saucepan.
In the 3-quart melt the butter over medium heat at 275°F. Whisk in the flour and cook for 2 to 3 minutes or until it smells like cookie dough. Add the nutmeg and mustard whisking as necessary and cook for another 2 to 3 minutes.
Slowly add the Half N Half and milk, whisk as needed until the mixture thickens, about 4-5 minutes. Turn the burner off and add a small amount of cheese at a time whisking until the cheese melts and is fully incorporated into the sauce. Add the cooked pasta and stir to combine.
NOTE: At this point, you could serve right from the pan. For baked Mac N Cheese preheat the oven to 375°F. While the oven is heating pour the Mac N Cheese into a baking dish.
To prepare the topping melt the butter in your 1-quart saucepan over medium-low heat at 175°F. Add the breadcrumbs to the melted butter and stir to combine and turn the heat off. Sprinkle the breadcrumbs topping evenly over the Mac N Cheese and place in the oven. Bake for 30 to 40 minutes.
SERVING:
Top with grated cheese and serve hot. Enjoy!