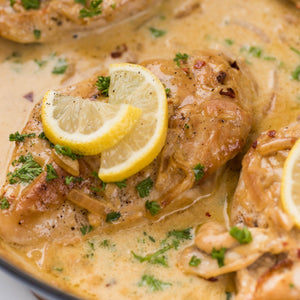 Get ready to tantalize your taste buds with our delicious Lemon Braised Chicken recipe! With juicy and tender chicken breasts, pan-broiled, then infused with tangy lemon flavor, this recipe is a winner for any occasion. An excellent blend of herbs and spices adds an extra zing to the dish, making it a mouth-watering treat that you won't be able to resist. Serve it with your favorite sides and enjoy a meal that's both comforting and satisfying. Don't wait any longer to try this amazing recipe - your taste buds will thank you!
PREPARATION: 50 minutes – makes 4 servings
EQUIPMENT: French chef knife, cutting board, large salute skillet with vented lid, 1.5-quart stainless steel mixing bowl
INGREDIENTS:
4 chicken breast halves, bone-in skinless
3 tablespoons freshly squeezed lemon juice.
¼ cup chicken stock or white wine.
¼ teaspoon onion powder
¼ teaspoon marjoram leaves
¼ teaspoon sea salt or kosher salt
¼ teaspoon paprika
1 tablespoon fresh parsley, chopped.
½ lemon sliced
DIRECTIONS:
Preheat the large sauté skillet over medium-high heat, for about 3 minutes. Test the surface with a few water droplets. If the droplets bead up and dance across the surface, the pan is hot enough to brown the chicken and seal in the juices. Place the chicken in the pan; it will stick at first while browning. Cover the pan and open the vent. When the chicken loosens, for about 10 to 12 minutes, turn it brown on the other side. About 4-5 minutes. Test for doneness.
In the 1.5-quart mixing Bowl, combine the lemon juice, chicken stock, onion powder, marjoram, salt, and paprika, and mix well. Add liquid with herbs to deglaze the skillet. Reduce the heat to low 200ᵒF, cover the skillet, and close the vent. Simmer for 15 minutes.
To Serve: Remove the chicken to a serving platter or individual serving plates, garnish with parsley, and serve with sliced lemon. An excellent complement to this recipe is snow peas with toasted sesame seeds
NUTRITIONAL BREAKDOWN PER SERVING: Calories 298; Fat Grams 6; Carbohydrate Grams 4; Protein Grams 54; Cholesterol mg 146; Sodium mg 261.
THE POINT SYSTEM: Calorie Points 4; Protein Points 7; Fat Grams 6; Sodium Points 11; Fiber Points 0; Carbohydrate Points 0; Cholesterol Points 15.