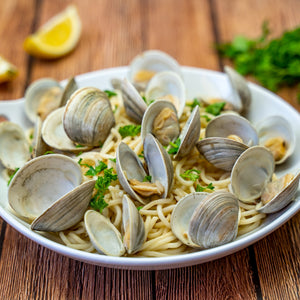 Little Neck Clams are hard-shelled clams with a diameter of 2 inches or less. A pound equals 7 to 10 clams or one serving. Pared with linguine in a sauce of white wine, butter, and fresh herbs, with a touch of red pepper seeds, Little Necks are considered a New Jersey delicacy.
Littleneck Clams: 1½ to 2": Most tender for grilling, steaming, eating raw, perfect with linguine.
Top Neck Clams: 2 to 3". Slightly chewy for stuffing and broiling
Cherrystone Clams: 3 to 4". Chewy for chowders and stews, steamed, grilled, and stuffed.
Chowder Clams: 4" + for stews and chowders.
PREPARATION: 30 minutes - makes 4 servings
EQUIPMENT: 6 or 8-quart stockpot, large sauté skillet,
INGREDIENTS:
1 pound linguine
2 tablespoons olive oil
2 tablespoons unsalted butter
7 cloves garlic, minced.
½ teaspoon red pepper flakes
2 teaspoons fresh thyme leaves
2 teaspoons fresh oregano leaves
½ teaspoon fresh mint chopped
½ cup of white wine Pinot Grigio or Sauvignon Blanc
1 cup clam juice
4 pounds Little Neck Clams about 30 clams
2 lemons sliced.
2 tablespoons Italian fresh parsley, chopped.
PREPARATION
In the stockpot, cook the linguine al dente. Drain and place the pasta back in the stockpot to keep it warm. Toss with a tablespoon of olive oil and butter.
While the linguine is cooking. In the large sauté skillet over medium heat 275ᵒF, heat the remaining olive oil and butter. Add garlic and red pepper flakes, thyme, and oregano and cook, stirring occasionally.
Add wine, clam juice, and clams, and cook, covered with the vent open, until clams open (about 15 minutes).
To serve. Place the pasta in serving bowls, add an equal number of clams to each bowl, and ladle the sauce of pasta. Top with chopped parsley.
Adapted from a recipe in The Jersey Shore Cookbook by Deborah Smith page 143.