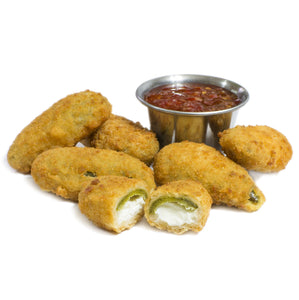 PREPARATION: 40 minutes – makes 25 to 30 stuffed jalapenos
EQUIPMENT:  2 medium mixing bowls, 2 dinner plates, French chef knife, cutting board, Rotary Mandolin food cutter, Oil Core Electric Skillet, Induction Cooker, large steamer rack inverted (place paper towel underneath)
INGREDIENTS:
8 ounces cream cheese with onion and chive, softened.
1 cup Cheddar cheese shredded #2 Cone.
2 tablespoon bacon bits
25 to 30 firm jalapeno peppers seeded and halved.
1 half & half or heavy cream
1 cup, all-purpose flour
1 cup, Italian breadcrumbs
2 quarts peanut oil for frying.
DIPPING SAUCE:
½ cup Apricot jam mixed with 3 tablespoons catsup
½ cup low sodium soy sauce
½ cup Ranch or Blue Cheese dressing
DIRECTIONS:
On separate dinner plates, pace flour and breadcrumbs. Pour cream into a medium size bowl. When you're ready to begin cooking, place oil in 5-n-1 cooker turn heat control to 375 degrees.
In the mixing bowl, combine cream cheese, Cheddar cheese and bacon bits. Mix well.
Spoon cheese-mixture into jalapeno halves. Dip stuffed jalapenos into cream then roll flour. Place on steamer rack to dry.
Dip stuffed jalapenos in cream again then roll in breadcrumbs. Place it on steamer rack to allow it to dry. Repeat to ensure entire surface of jalapeno is coated.
In the Health Craft 5-N-1 cooker heat the oil to (375°F/191°C). Deep fry coated jalapenos 3 to 4 minutes each, until golden brown. Remove to steamer rack.
Serve with dipping sauces.