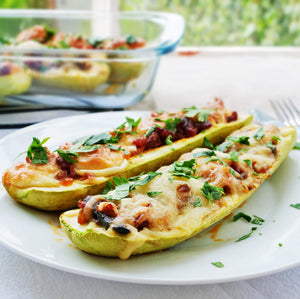 Italian Sausage-Stuffed Zucchini in a White Sauce 
EQUIPMENT: 13-inch sauté skillet, Jelly Roll pan, rotary food cutter, 2-quart saucepan
PREPARATION: 40 Minutes - Makes 6 to 12 servings
INGREDIENTS:
6 medium zucchinis
3 links Johnsonville Italian sausage, casings removed.
1 onion chopped #2 cutting cone.
2 cloves garlic, minced.
1 egg, beaten well.
2 tablespoons Italian breadcrumbs or panko
½ cup grated Parmesan cheese, half reserved for topping.
1 medium tomato seeded and chopped.
2 tablespoons of fresh marjoram, chopped, half reserved for topping.
1 cup chicken stock
2 tablespoon cornstarch
1 cup milk
DIRECTIONS:
Preheat oven to 350°F.
Cut each zucchini lengthwise in half. Scoop out seeds and pulp, leaving a ¼-inch shell. zucchini shells on a Jelly Roll pan or Cookie Sheet. Set it aside. Note: If you like, pulp (not seeds) can be incorporated into the recipe.
In the 13-inch gourmet skillet over medium heat (375ᵒF) sauté sausage is no longer pink. Add onion and garlic and sauté until cooked about 4-5 minutes. Add egg and stir vigorously to combine. Add breadcrumbs, ¼ cup cheese, chopped tomato, and 1 tablespoon marjoram. Stir to combine. Turn the heat off. Spoon into zucchini shells.
Place the Jelly Roll pan with stuffed zucchini in the oven and bake for 15 to 20 minutes or until the zucchini is tender.
While the zucchini is baking, in the 2-quart saucepan bring the chicken stock to a simmer over medium heat (275ᵒF). Stir the cornstarch into the milk until mixed well. Add the cornstarch and milk mixture to the chicken stock and stir until the sauce reaches your desired thickness.
To serve, spoon 5 or 6 tablespoons of white sauce onto a dessert-size plate. Place the stuffed zucchini on the sauce and top with parmesan cheese and sprinkle with marjoram. As an appetizer 1 per person, or 2 per person as an entree.